Here at 1 Dog At A Time, we thought we'd talk about treats. We all love our Romanian rescue dogs, and we like to see them enjoying their favourite biscuit or chew, but do we really know what we're giving them?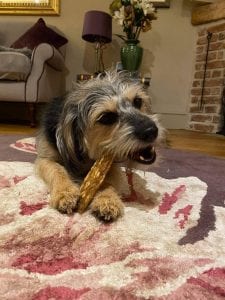 Making the right choices
Of course, now that they are off the streets, our dogs are relying on us to make the right choices for them. There are so many goodies to choose from these days, and we also have to make sure we're not feeding them too many treats. As in the human population, obesity in pets is becoming a big problem – it is our responsibility to make sure our dogs are given food and treats appropriate to their size and the amount of exercise they are able to do, to ensure they do not put on too much weight. Carrying too much weight is very bad for our pets, it can cause heart disease, diabetes, put unnecessary strain on their joints, increase certain types of cancer and ultimately reduce their lifespan – none of us wants that.
That doesn't mean we should deny them treats altogether; it just means balancing their total food intake. So if they enjoy a large chew, then maybe slightly reduce the amount you feed them in their dinner that day. In the same way, if we eat a bar of chocolate or a cake, we should probably reduce the amount we eat in our main meal to compensate – we have to make the same choices for our dogs.
No rawhide
The other thing we need to do is ensure the treats we give them are not doing them any harm. For example, many pet shops seem to be stacked high with rawhide bones, often brightly coloured and attractive to owners because they seem to last your dog a while. However, rawhide should be avoided at all costs. The process to treat the hide, removing animal tissue and hair involves a range of very nasty toxic chemicals – a quick 'Google' search on how they make rawhide will be enough to send shivers down your spine. Then the hide is shaped into attractive looking, often brightly coloured bones for your dog to chew on. The material is difficult to chew and even harder to digest. Dogs often swallow large pieces which can get stuck in the oesophagus and cause a choking hazard or cause a blockage in the digestive tract – in short, they are dreadful things and should be avoided at all costs.
So – what can you give them?
My general rule of thumb is to check the ingredients list – if there are ingredients I don't recognise, chemicals, colourants or artificial flavourings, they go back on the shelf. Instead, try to choose treats with natural ingredients. A healthy alternative to rawhide are things like bull's pizzles, pig's ears or chicken's feet. The look of these puts some people off, but they don't tend to smell as they have been air-dried – but your dog will think they are delicious and you can be sure these don't contain any toxic chemicals.
If you can't quite cope with the thought of a half-chewed chicken's foot on your kitchen floor, then choose some of the prepared treats with natural ingredients. We here at 1 Dog At A Time Rescue have set out below a few ideas.
Raw Carrot – may be stuffed into a Kong to make it more interesting.

Hard-boiled egg (including the shell) – a bit messy, suggest you do this in the garden. Eggs are high in protein and vitamins; they can help settle an upset stomach.

Whimzees – made with only six ingredients, natural colourings, grain-free and gluten-free.
Greenies – dental chews, often recommended by vets, can help reduce plaque and tartar.
Lily's Kitchen Woofrush – long-lasting, natural ingredients, good for helping with dental hygiene.
Have a look at our recipe for homemade dog biscuits on another of our 1 Dog blogs by clicking HERE.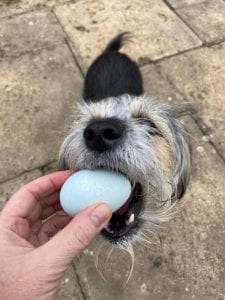 Most importantly, dogs find chewing soothing; it helps them to calm down and relieves boredom. Go to a good pet shop (often the small independent shops are the best) and ask for some advice on healthy, natural treats for your dog. Your dog will love you for it!
Please click here to contact us if you would like more information on 1 Dog At A Time Rescue UK.