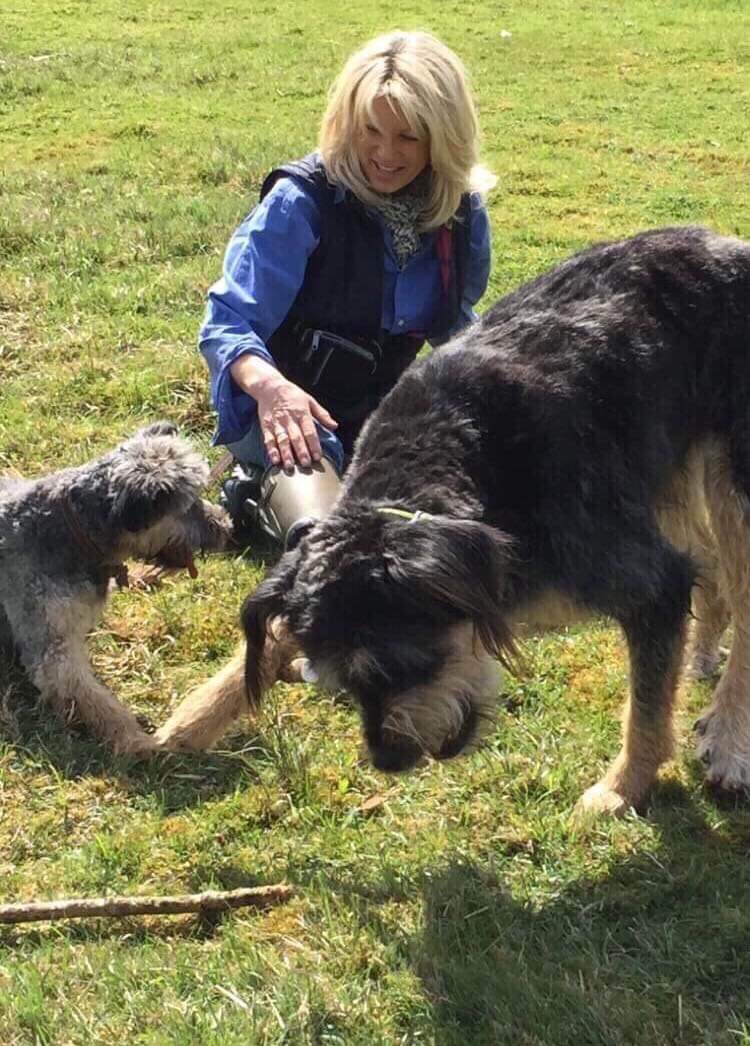 Jayne Sully
Co-Founder and Trustee
Rescue has always been my first love; right from the moment I could walk, I was rescuing. My first recollection was saving butterflies and fish from my brother's nets, and like so many before me, I insisted my parents stop the car to rescue hedgehogs from the side of the road. As a child, I was always bringing home wounded animals and strays. I've grown up with dogs and have shared my happiest and saddest moments with a dog by my side.
I have Worked in Animal welfare for over 25 yrs and, alongside this, worked for 34 yrs as crew for a UK airline. My background is in customer service. Whilst flying, I became increasingly aware of the plight of the street dogs and the harsh lives they often lead; starving, abused and beaten, treated like vermin.
Having worked with a number of major UK animal charities, I have seen first-hand the plight of abandoned and unwanted dogs both in the UK and abroad. I volunteered and fostered for a major UK charity for eight years but became disillusioned with the politics. In my spare time, I became a dog sitter, home-checker and fosterer specialising in caring for the sick, elderly and most in need.
My 1 Dog journey started back in Oct 2012 when a picture of a bone-thin, poisoned, and beaten dog stared out at me on Facebook. The words "is there any kind soul out there that can help?" were above his picture. His eyes tore into my heart. I just knew I had to help him. That was 8 yrs ago, and Fozzy, the dog I rescued that night, is now in the Uk and a very much loved member of my family. Fozzy (the first 1 dog) has pathed the way for more than 650 dogs to follow in his footsteps.
Since that day, I have dedicated my life to the care and well being of the abused, forgotten and neglected street dogs out in Romania and spend my day securing the futures of the dogs we rescue.
This is how the story of 1 Dog At A Time began.​
Julia Webb
My journey with 1 Dog began when l saw a photo of a dog on Facebook, huddled at the bottom of a dirty cage with the saddest eyes l had ever seen. Sadly l knew l didn't have the space for such a big dog, we already had 2 small dogs but curiosity made me look at the other dogs available & the second l saw her photo l knew the painfully skinny, dirty, petrified little girl living in squalor & filth in the Public Shelter, trying to make herself invisible, was always meant to be mine. I would have walked all the way to Romania to get her if l had to. Molly blessed our life's and filled our hearts with so much joy, l wanted to pay if forward on her behalf and joined the amazing 1 Dog Team to help other dogs just like her. I have absolutely loved every second, I work alongside the most amazing people. It is probably the most rewarding thing l have ever done.
Our family also grew, we adopted Molly a sister from the same Public Shelter and then her 4 brothers who arrived as fosters but from the minute they arrived, they stole our hearts and decided they were home, so never left. We also adopted 2 kittens from Romania. We have fostered and not kept them all, now into double figures, dogs have stayed with us for varying periods of time each touching our hearts but so thankful we could help them on their journey to their forever homes. I love being part of the 1 Dog Family.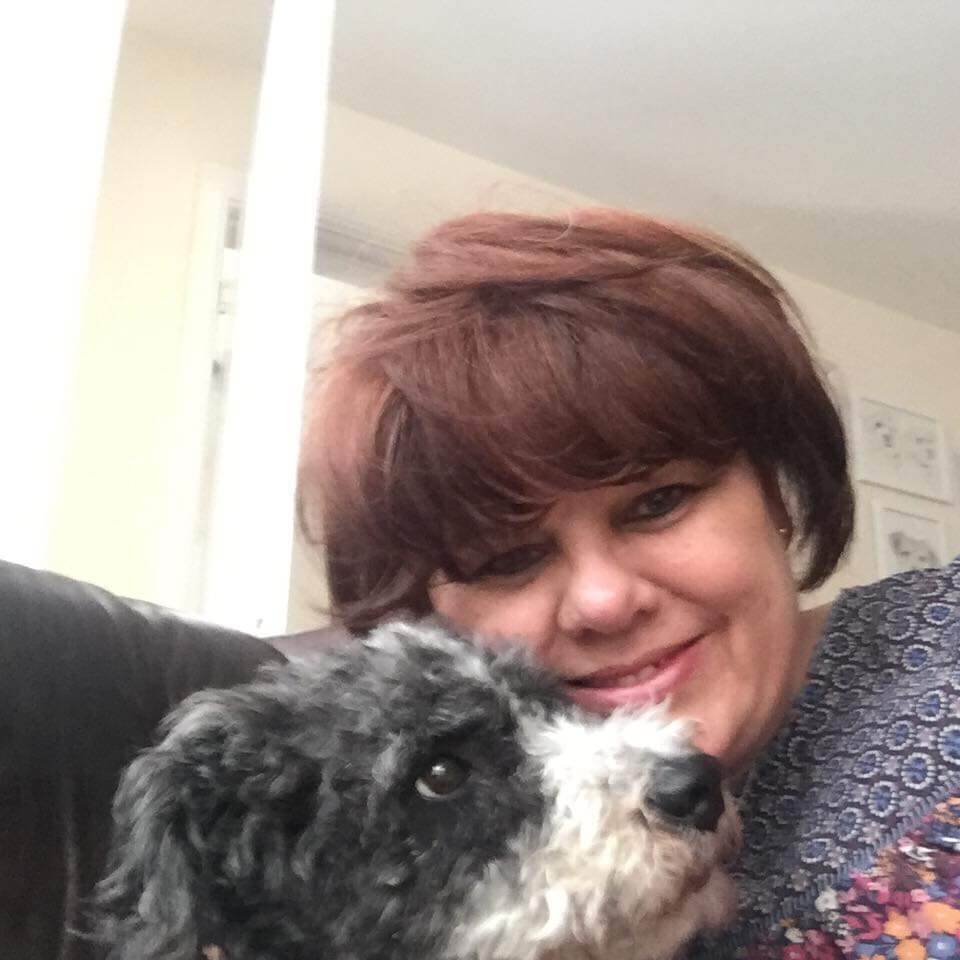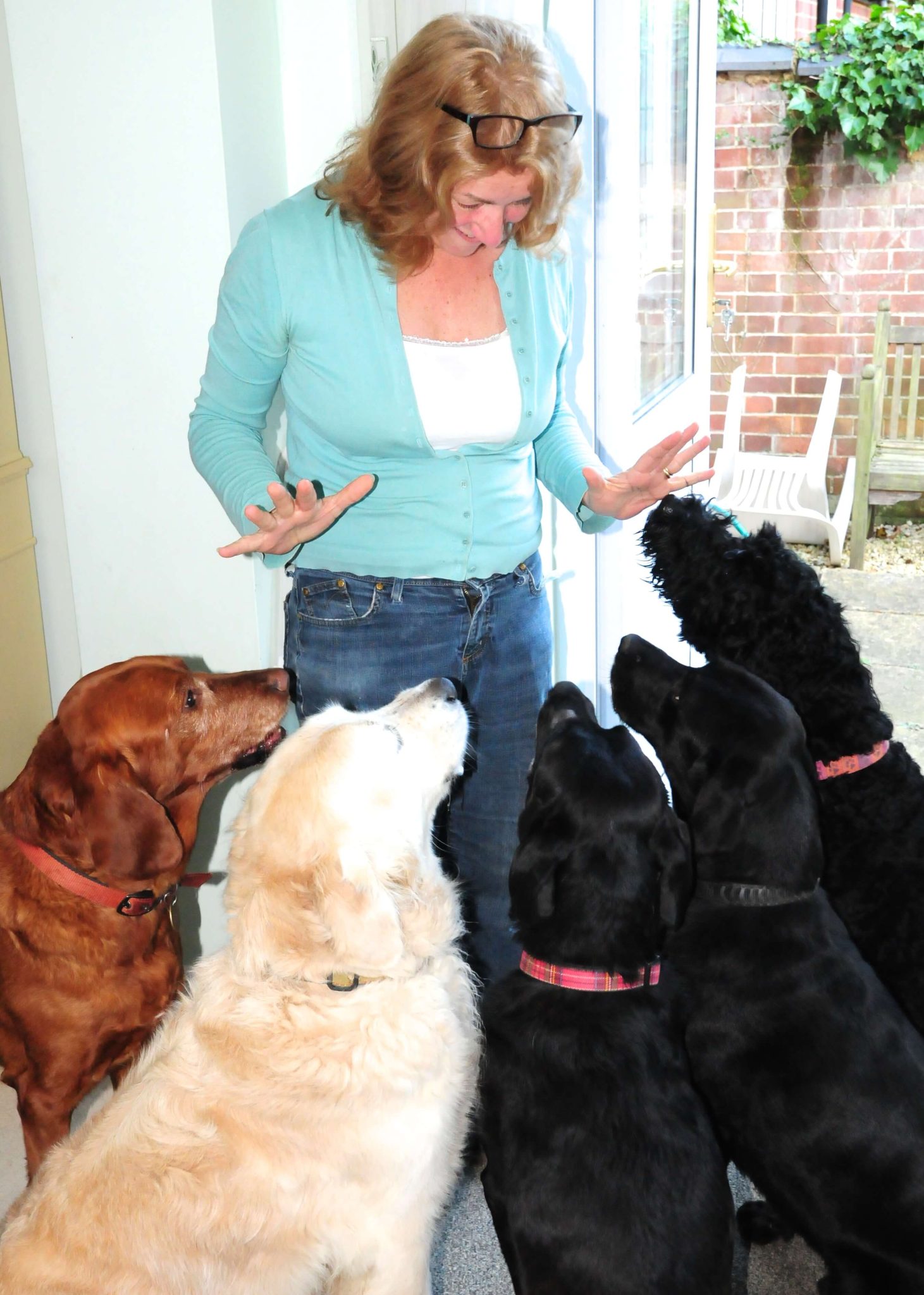 June Chapman
I have had dogs as long as I can remember. I grew up with dogs and then later when my work/ life balance meant I was able to spend more time at home, it was not long before a dog (or two) joined my family.
I did puppy walking and dog socialisation and training originally and I have also fostered dogs for various rescues over the years. Some of those dogs have never left, I am what you call a failed fosterer.
I have been involved with animal rescue for a little over 35 years now, mainly dog rescue, but I have also been known to rescue the occasional cat, horse, sheep, pig and there were a few hens we helped find homes for too!! I currently have two dogs of my own who are both rescue dogs. They started off here as a foster dogs but have ended up staying. I don't currently have a 1 dog dog, but my aim is to add a 1 dog dog to my "pack" soon.
My role within 1 Dog at a Time Rescue is mainly Admin. It's me, and my admin team, that receive your registration forms when you send them in and arrange your homechecks. I then send you out your adoption forms.
I am also proud to be one of the 1DAATRUK trustees.
Lesley Lee
Hi, I'm Lesley, I'm part of the admin team and very proud mummy to my 1 Dog furbaby Herbie.
I first came acrossed 1 Dog at a Time Rescue UK in 2015 when I was browsing through facebook and saw a post with a picture of a desperate dog in a Romanian Public Shelter. It was our Herbie!! We fell for him instantly and adopted him and he's been part of our family for more than 3 years now, we love him dearly.
I got involved in 'doing admin' for 1 Dog when I decided I had some time spare and I wanted to give something back to them. That was about a year ago now and I am so proud to be part of this wonderful and passionate team, helping Romanian dogs to find their happy forever home where they can live with no fear and be happy, fed and loved.
Aside from 1 Dog I am happily married, work in technology and enjoy the outdoors and adventures in our motorhome.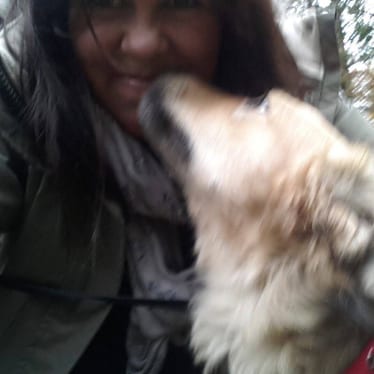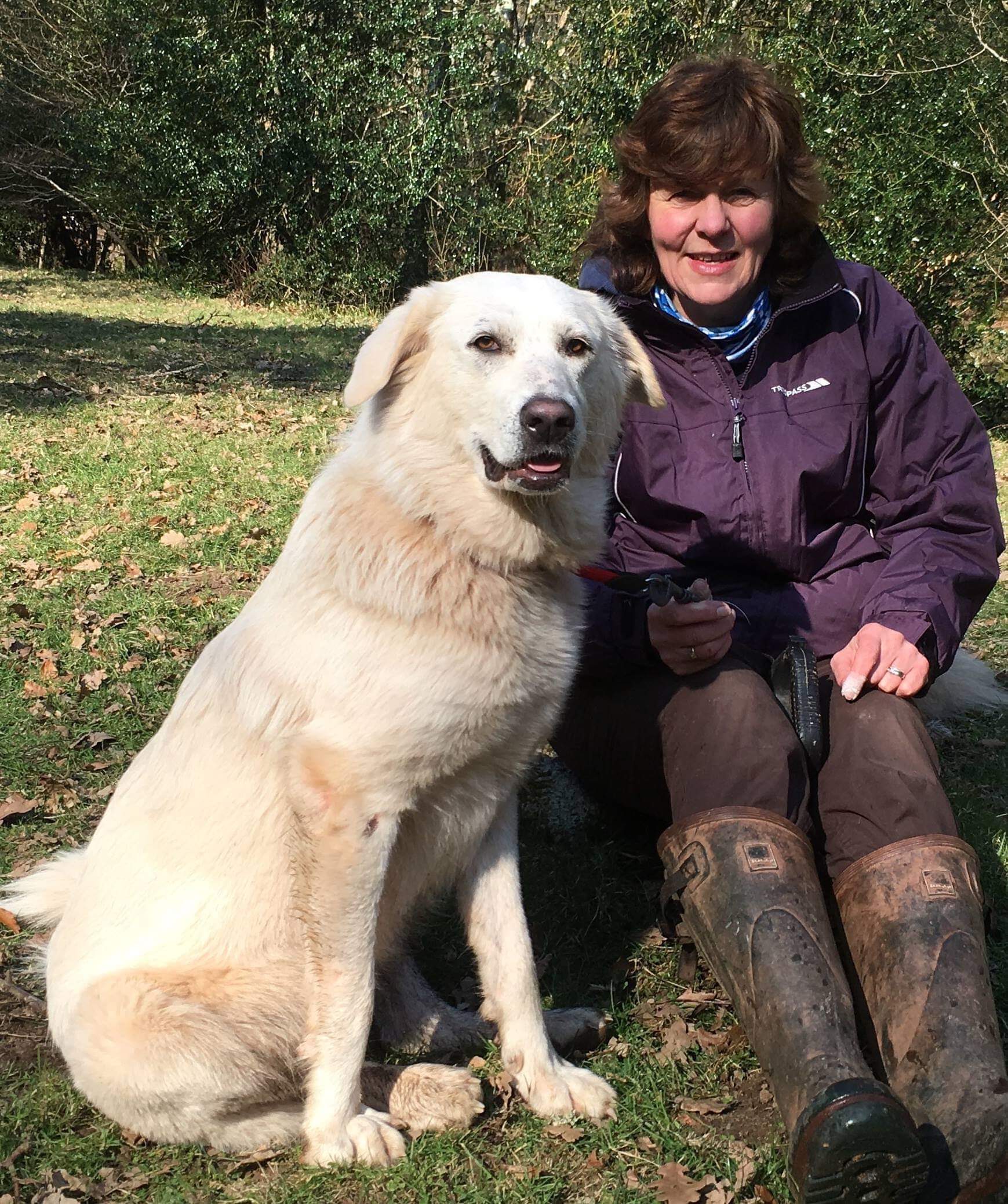 Pippa Scott
Hi, I am Pippa and I got involved with 1 Dog after a friend shared a post of a scared dog lying on a pallet in the Public Shelter in Bistrita. I fell in love with her and had to find out more! Her name was Flossie and she was the reason my journey with 1 Dog began. I didn't adopt her, but I did adopt Willow and Anca, a bonded pair that had been on the streets together for 5 years. They have changed my life for the better, and hopefully I have returned the favour! That was over 3 years ago. Helping to find these amazing dogs loving homes in the UK is such an amazing feeling. I am proud to be part of this lovely charity.
I am involved in the rehoming side, kennel sponsorship, and Facebook. But try to get involved with all aspects of the work needed. I have 3 Rommies and feel truly blessed. My picture is with Alisha, who I originally fostered, but has now become a much Ioved member of the family.
Sally Clarkson
Hello, my name is Sally. I'm Mum to gorgeous 1 dogs Zeus and Milo. I'm also a member of the home checking team. I started home checking 21/2 years ago; This came about after we were home checked to enable us to have Zeus. As my New Years resolution had been, 'I wanted to make a difference,' I decided I would volunteer to help rescues find homes for their dogs. During the lockdowns, this lead to doing virtual home checks for 1 Dog At A Time. I also have the wonderful job of catching up with you and your doggie journeys six months down the line!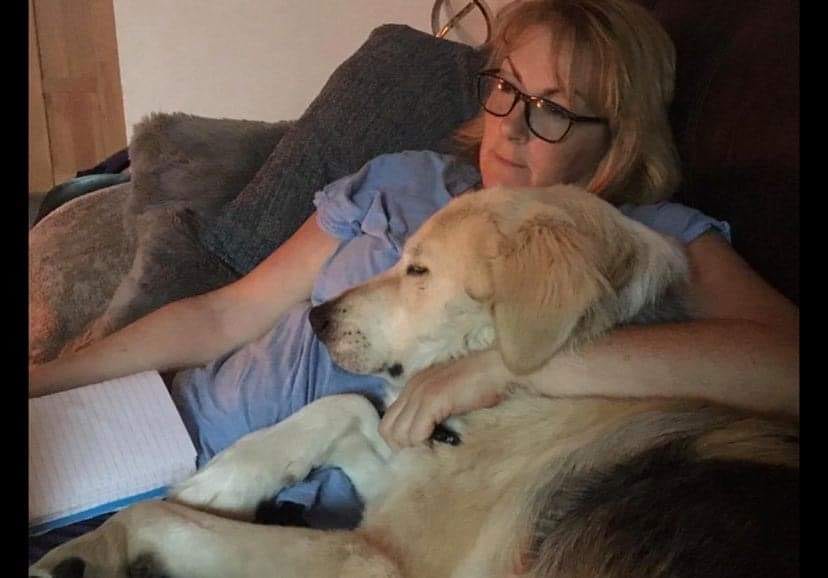 Jan Noel​
I joined the wonderful 1 Dog at a Time Family in March 17. A simple share on Facebook and my application to adopt Annabel Amber and Jessie was successful.
After a lot of consideration and planning with the 1 Dog Team we were then able to adopt Negrutu. Negrutu was a long stayer at Happy's and missed Annabel, Amber and Jessie as he used to play out with them before they left. We built kennels for him as he was a very nervous dog and didn't think that he would ever adapt to living leaving in a house. After just a week everything changed and Negrutu moved into the house.
I really wanted to be able to help this wonderful charity more, so I started doing some crafts to donate for the auction to help raise much needed fund. I was very honoured when I was asked to join the fundraising team.
In July 19 I had the most amazing opportunity to have a working week at Happy's in Romania. Myself and Pippa had a great week helping the lovely ladies who volunteer at the kennels. After I returned and having fell in love with every single one of the dogs, I decided that another way of helping would be to foster. Negrutu's empty kennels would be the perfect starting place. We have fostered 6 dogs so far with just 1 fail who has joined our family.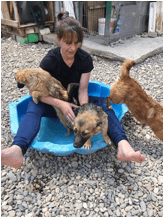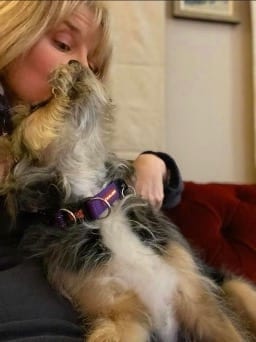 Charlotte Boughton
Hi – I'm Charlotte, I first stumbled across 1 Dog at a Time Rescue UK in 2016. My sister had lost her dog suddenly and unexpectedly and we decided we wanted to make a donation to a dog rescue charity in Henry's memory. I started searching on the internet and came across 1 Dog,– so we made a donation and that was the end of it – or so I thought!
I carried on following 1 Dog via Facebook and was so moved by the plight of the dogs and the wonderful things the charity was doing to help, I was very tempted by some of the dogs available for rehoming, but it wouldn't have been fair on our old boy, who was enjoying a peaceful retirement. However, when we sadly lost him at the ripe old age of 14 1/2 , after some time to adjust, we decided it was time to welcome another dog into our lives.
I started allowing myself to look at the 'dogs available' pages and one day a little cheeky, scruffy face was staring out at me and I said to my husband – that's the one! After a good grilling from the 1 Dog Team and a home check, we were deemed suitable 'doggie parents' and a couple of months later the big day had arrived.
I was so impressed by the passion and dedication shown by the team, I felt I wanted to do something to help, even if only in a very small way. I therefore volunteered my services and now I look after part of the 1 Dog website.
Sharon Holton
My whole life has been spent involved with animals, working with them and having them as pets. At the moment I have dogs, cats, chickens, sheep and horses – all rescues! My sister shared a post on Facebook and that was how I first heard about 1 Dog. We weren't looking for another dog, but in July 2015 Baxter joined our family.
I am currently the Treasurer for 1 Dog and have fostered a few dogs too. The transport bus comes to my home, so I get to meet the new adopters and of course all the wonderful dogs. I love the transport days, they are very special. 1 Dog is an amazing charity which achieves so much and I am very proud to be a part of such a dedicated and passionate team.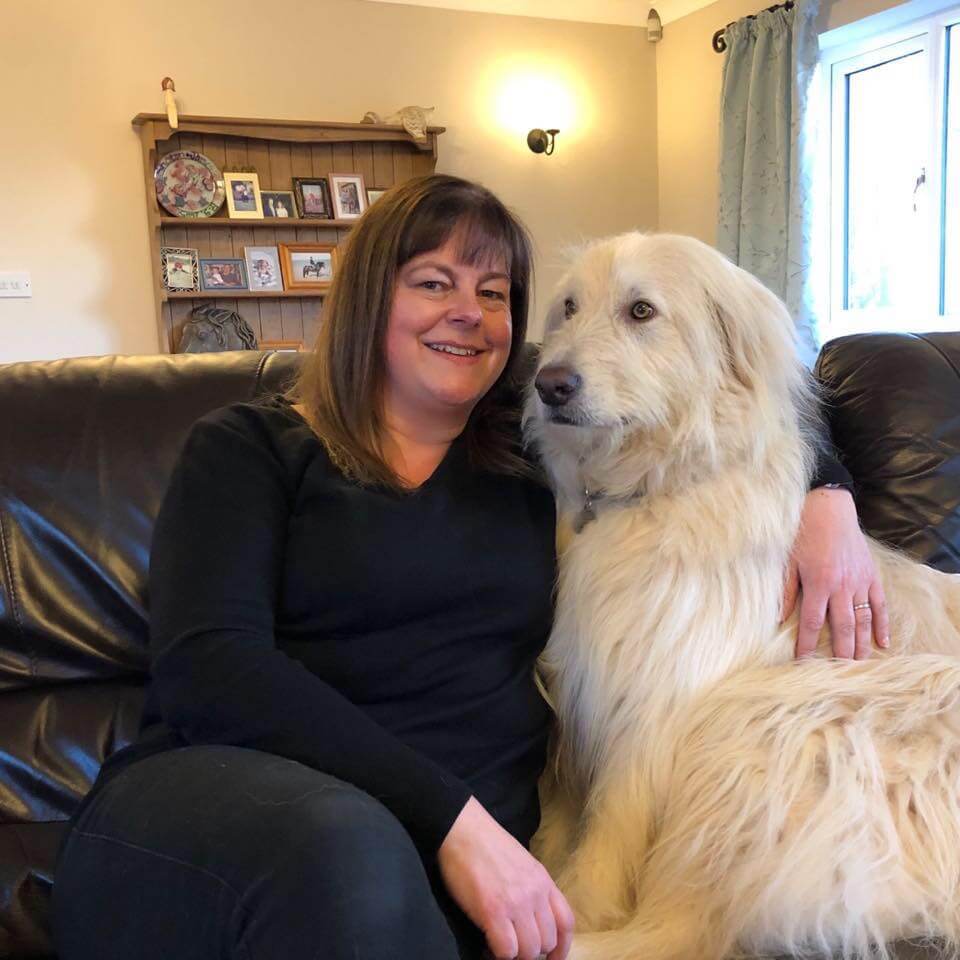 We'd love to chat…
Are you looking to adopt a dog? Please find out more on our 'How do I Adopt' pages, where you will find costs and information on how to adopt one of our dogs. To apply to adopt a dog, please complete a registration form in the first instance and one of our rehoming team will be in touch in due course.
If your query relates to anything else and you can't find the information on our website, then please feel free to get in touch.