Kay Rolph and Lola
We collected 5 month old Lola from the 1 dog Happy Bus in October 2018. We were determined to 'adopt, not shop'  and had been scouring the local rescue centres for weeks before we realised that adopting from abroad was a thing!  We'd befriended a stray on holiday in Macedonia earlier in the year and had been struck by how chilled and friendly the street dogs seemed to be. We wanted a puppy (rare in UK rescues) and there appeared to be no end of puppies in Romania, facing the  horrific challenges of surviving on the streets, or possibly worse the public shelters. There are many organisations now in the business of rehoming Romanian dogs in the UK  so it was important to us that we researched carefully and chose a charity  with a proven professional track record  and the welfare of the dogs at its heart. One Dog at a Time fulfilled those criteria, including excellent aftercare provision. Additionally there is a Facebook group for 1 Dog adopters which is fantastic for sharing doggy news and advice.  We had seen pictures and videos of Lola and discussed her personality at length so that we were already a little in love with her before we met her! We had been warned we would need to give Lola time and patience to adapt to her new life and she was a nervous wreck for a week and repeatedly jumped on us, biting quite hard. This was not aggression, she was simply releasing anxieties and energy in an inappropriate way. We dealt with this calmly and consistently  and I remember commenting after about  2 weeks "Lola hasn't bitten me today!" We are now 3 months in and Lola is turning into an amazingly clever, loyal and loving companion. She isn't perfect (my lawn is 20% holes!) but she has brilliant off lead recall, walks beautifully on the lead, loves other dogs, isn't destructive in the house, and is fantastically affectionate with our family. She is shy meeting new people but is quickly won over by treats!  Lola is reaching her potential quite quickly but some dogs, perhaps with more traumatic early experiences, will need much longer but the love they will give you will make your patience and efforts worthwhile.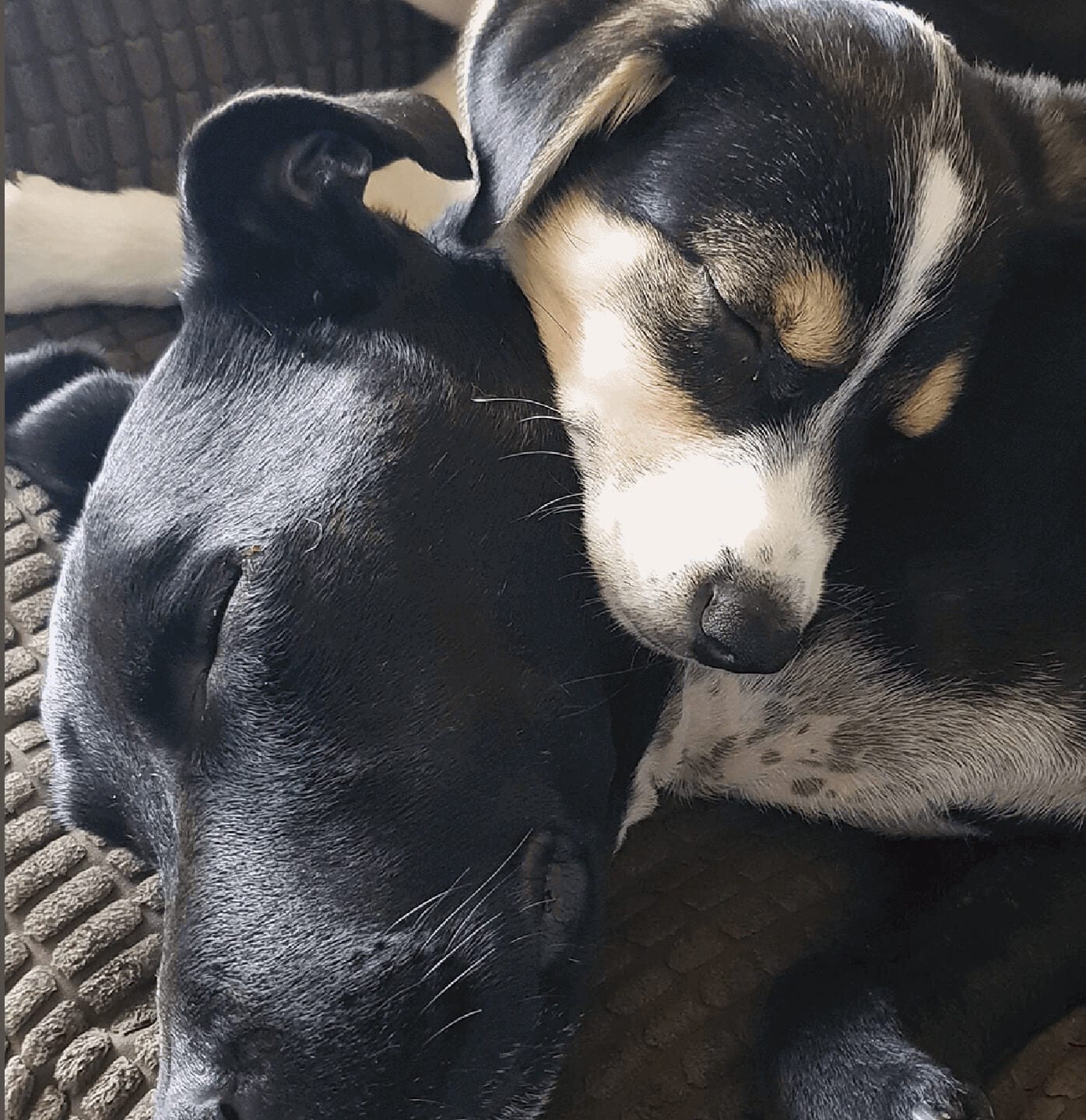 Elspeth Craig and Shelby
We were thinking about a sister for our rescued staffie but hadn't done anything about it until Facebook showed us photos of Shelby and Scarlet.  Before I had even had a proper discussion with my other half, he'd filled in the adoption form. Within 2 weeks, we'd had our home check done and were told the amazing news that we were getting Shelby.  Although it meant a 10hour round trip to pick her up, it was totally worth it as she's made our family complete, fitting in straight away with no more issues than you would expect from any puppy. Whilst she's a cheeky nutter who makes us laugh every day, she's had the biggest effect on her big brother – although he's still scared of many things like fireworks and loud cars,  Flora (as she is now called) takes his mind off it, usually by grabbing a toy and sticking it in his face until he can't think about anything else. There is rarely room in our bed as most of the space is taken up by 2 spooning, snoring doggies. Whilst we have adopted before, the advice and sense of community with 1Dog is amazing and unique  – the adopters and fosterers page means we can keep in touch with the other dogs from Flora's happy bus including her sister. Whilst adopting any pet can be a challenge,  it only takes a bit of time and patience to make it the most rewarding thing you can do 😊
Karen Hyden and Chrissy
We'd thought about adopting another dog but weren't sure where to start then a friend of mine adopted a beautiful girl from One Dog At A Time Rescue UK. We looked on the website and there she was our special girl, we fell in love at first sight so we filled out the application form for her which was really easy to do even for me, a lovely man called Ian came and did our home check which was very thorough but not as scary as we thought it would be, he answered all our questions and put our mind at ease about the adoption. Then we kept our fingers crossed…… A lovely lady called Jayne rang to ask a few more questions and she gave us more useful information and then told us we had been successful and we were to be Chrissys new Mom and Dad. The couple of weeks leading up to meeting our girl were hard, we couldn't wait and we didn't know what to expect but we were kept informed of every step of the journey she made and it was all professionally done. Holding Chrissy in my arms for the first time was one of the most emotional days of my life, she was beautiful. She settled into family life like a dream and if we had any teething problems we had lots of support from other adopters on the Facebook page no question we asked was unanswered, it's lovely looking at all the updates of the pooches. I can't thank One Dog enough they kept us informed every step of the way and have supported us to the present day and if we had more room I'm sure we'd have a house full of dogs.  If you're thinking of adopting a dog please don't hesitate, these people,are amazing and care so much for the dogs and you are guaranteed 100% support.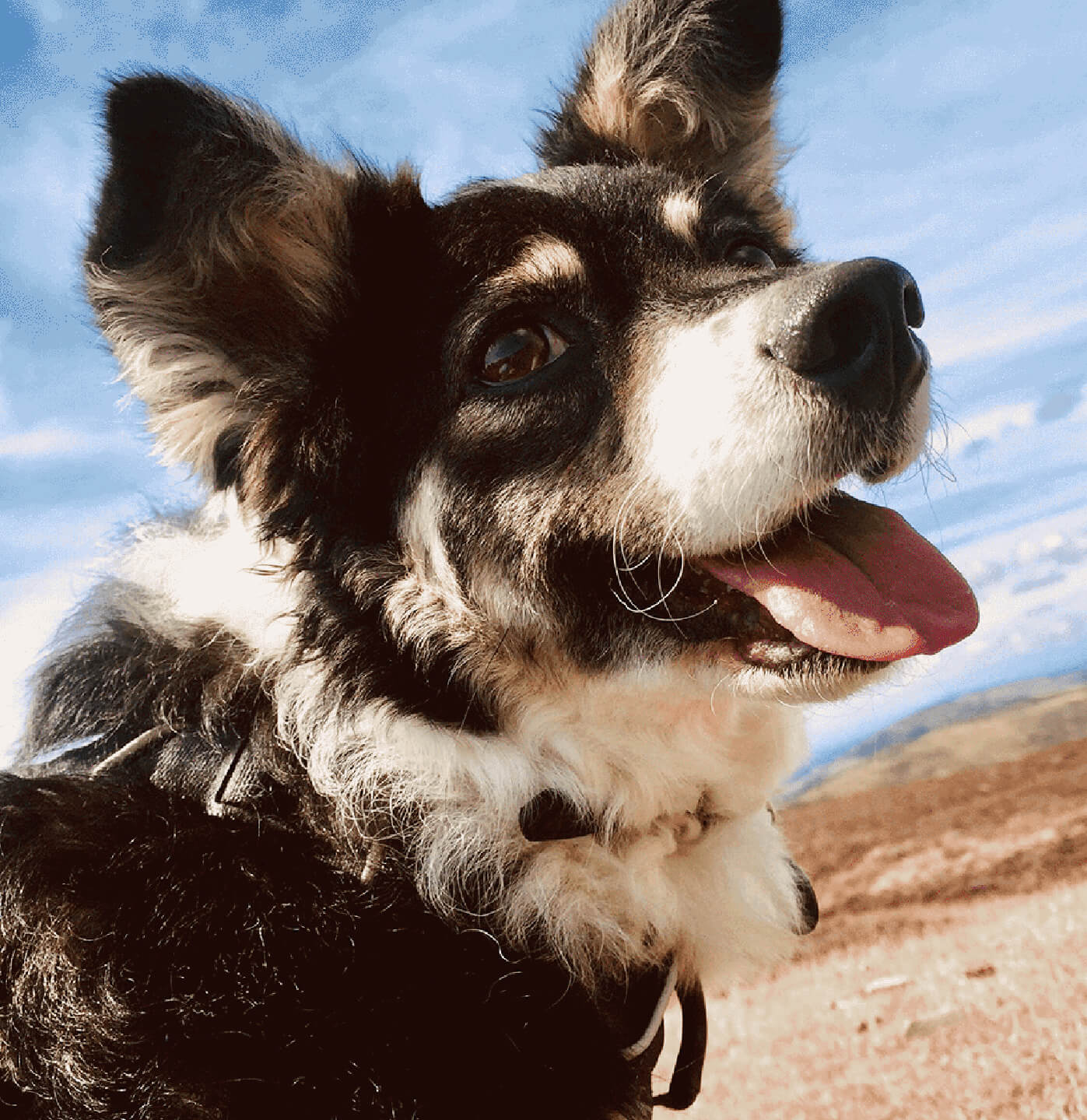 Ciaragh Hubert and Denisa
When I saw Denisa's video, of her taking her first steps after being found paralysed at the side of the road, I immediately fell in love. I'd had to learn to walk again a few years ago, after major back surgery, so I knew we were made for each other. Her courage and determination mixed with her big eyes and vulnerability make her an irresistible little dog. She has overcome so many obstacles and makes us smile every day. I feel very lucky that Denisa has become part of our family which she settled into so easily. Adopting a rescue dog has brought a whole new meaning to my life and has introduced me to a community of wonderful people who make me feel better about the world.
Sarah Childs and Fern
We adopted Fern last March. It was love at first sight when I saw her picture but as I already have my own dogs I was concerned about her fitting in. Mrs Ellis and Crina were fantastic in giving me a really honest and accurate description of Ferns temperament and she has proved to be the most wonderful kind dog who has fitted straight in with my gang. The adoption process was very straight forward and I was kept up to date of every step of her journey to our shores. I have to say it is exciting and Also very emotional picking them up when they arrive She was nervous initially with things like traffic and new places but she has blossomed over the past 10 months with us and now doesn't worry about traffic. You have to give them time to settle and not overwhelm them, but it's worth it. Fern goes to Agility twice a week and this has really helped build her confidence. Would I have another Romanian  rescue???….. yes definitely 💕💕💕
We'd love to chat…
If you've got any questions or would like to learn more about 1 Dog At A Time Rescue, feel free to get in touch.