Michelle Mulder with Lia
After losing my Staffy in May 2018, we approached a number of big name rescues about adoption. We really struggled to be considered as we live on a small holding, so not your traditional suburban property with 6ft fenced garden. Indeed some charities were downright rude, dismissing us outright, despite being experienced dog owners being able to provide a good home.
A friend recommended 1 Dog, and what a difference. It was obvious from the start that matching dogs to the best home was their focus. After a number of calls and a home inspection visit, we found our gorgeous Lia. She has been a joy from the start.
I cannot recommend 1 Dog At A Time Rescue UK highly enough. Placing dogs in the right home is their number one priority.
Debbie Barton and Rosie
Having reached, shall we say, somewhere in my 40s, with no experience of owning a dog, I was really excited and a little bit nervous about getting our first ever family dog. Sharon, from 1 Dog At A Time, has been absolutely amazing. She spent a lot of time painting a very clear picture of what it is like owning a dog. The joys as well as all the challenges you need to overcome, particularly with a rescue dog. I felt very prepared, and it was so helpful that Sharon took so much time to go through everything. We were so excited that we did not have to wait too long for our lovely Rosie. We drove for a couple of hours to meet Rosie and took her for a walk. She was a little shy, but my 9-year-old was smitten, and so were we. Rosie was 6 months old when she joined our family. When she came home with us, a bit of patience was needed at first, and 1 Dog had prepared us well for this. Rosie needed to learn to trust us and settle down in our home, which happened surprisingly quickly. She is so intelligent we have had loads of fun learning tricks and I love cuddles with her. I had so many questions, both big and small, and the 1 Dog family have helped us every step of the way. You can find the answers to most questions from reading posts on their Facebook page or asking other experienced dog owners. If you can't get answers there, 1 Dog have been amazing at answering direct messages. Sharon has even joined me for walks with her dog to help me socialise Rosie (which has not been easy during lockdown). I love the way 1 Dog really listen to the type of dog you want and understand your capabilities as a newbie to dog ownership. They really make sure that you get the right dog and care a great deal about making sure dogs find their forever home.
Jacqui and Nick Nicholls with Dilly
We had been thinking about adopting a rescue dog and decided we were finally ready in August 2020 after my westie died in 2016. After lots of due diligence and fact finding on all aspects of rescue, we looked on the website, and there was our Dilly. I just knew he was the dog for us, and luckily my husband agreed, so we filled out the application form on the Sunday and got a call from Jayne Sulley on the Tuesday. We did the virtual home check due to Covid 19 by video and had a video interview with Jayne on the Wednesday, where we were told we were successful and could pick him up on Saturday !!! Jayne was very thorough and gave us loads of useful information, all of which we have used as adopting a Romanian Street dog requires a new set of skills. We were kept informed of every step of the journey with updates. The journey is long and stressful, and Dilly did have a meltdown when he arrived (who can blame him, he's been through a lot in his little life), but with guidance and support from Jayne, Sharon, Pippa and other fellow 1 Dog adopters and fosterers, we showed him we were there for him forever, and once he turned the corner and trusted us, all the patience and calm did pay off.
Dilly is honestly the most brilliant, funny, affectionate little wonder, and we absolutely adore him, so much so that we are now set to adopt a baby sister for him from 1 Dog in a few weeks time.
We have a healthy, very happy little dog who's previous life was a nightmare, 1 Dog changed his life and ours so much for the better.
This is a fantastic organisation that makes a huge difference to the plight of street dogs in Romania. They are very thorough in matching the right adopters to the right dog. Their support and aftercare is second to none. I would not hesitate in recommending them to any sincere prospective adopter.
We cannot thank you enough 1 Dog x
Emma Eustace with Roxy and Rolo
We had been looking for a rescue dog for a little while to join our 13 year old rescue male dog. We stumbled across a photo of Roxy (Rusty) and fell in love with her story and wanted to give her a home. 1 Dog At A Time Rescue UK were amazing from start to the present day. Their checks were thorough; they helped us with advice on settling the dogs in and are still there now to help on training needs etc. We were so happy with their service and genuine love for what they do that we adopted a 2nd dog from them four months later (Rolo).
Both Roxy and Rolo are the best of friends. They have been amazing. When we look to adopt again, it would only be from 1 Dog.
Janneke Merkx and Remy
After deciding I was ready for a dog in my life, I started looking for organisations that looked trustworthy and genuine. 1 Dog At A Time Rescue UK came out on top by a mile, and I submitted an application in late 2018 for my Remy. After a very pleasant and thorough initial phone conversation, which only affirmed that 1Dog is genuinely here for the dogs and their best welfare, I had a home check, and then the great news came in that Remy would come to live with me. Then followed a long wait for Remy to get to the UK, but in that time 1Dog was in touch regularly with pictures and videos of Remy, as well as very useful advice to make sure us new owners were fully ready and prepared to give our dogs the best start in their new life. When finally the big day arrived, it could not have been more pleasant, despite all the nerves and anticipation. Remy quickly settled into life with me, and I can honestly not thank 1Dog enough for bringing him to me – he is everything they said he would be and more! After taking Remy home, they are still there for any problems or questions you may have, and the adopters Facebook group is a joy. Remy is my best friend and shadow, and I cannot imagine life without him. We will soon be celebrating his second Gotcha Day.
Annie Oakley with Ronnie and Reggie
These photos are of our beautiful fur babies Rupert and Reggie, from the 18th July 2020 journey home, to now and they are still going and growing. It was the most memorable, emotional and exciting day. It was all planned and delivered by 1 Dog At A Time Rescue charity for us adopters, and they have continued their support ever since. They have proven to be the most caring charity, from the lovely ladies in Romania with their primary care, to the 1 Dog team in this country. Each and every one of them constantly cares, loves endlessly and never gives up on any dog that comes their way. We consider ourselves very fortunate to have discovered 1 Dog who trusted us with our fur ever babies, we thank them all.
Fi Tatem and Ron
1 Dog At A Time Rescue UK has been so amazing.
Lots of people told me to be very careful about Romanian rescue 'charities' and the types of dog they would be rehoming.
But honestly, we wouldn't have had even a tenth of the support and guidance buying a new puppy in the UK, that we have had with these wonderful, caring supportive people.
We adopted Ron in July 2020.
The whole experience made us feel welcome, supported and really assured. It takes a little time to get the house checks and paperwork done, but that's all so that everything is good for you and your new family member. It's so important. There is an abundance of information and direct support once they arrive and lots of contact with other adopters.
Everyone who works and volunteers for the charity cares about the dogs so much, from the UK to those that work in the rescue centre in the mountains in Romania! Ron has turned our worlds upside down in a fabulous way, and we will always support and hold 1 Dog At A Time Rescue in our hearts for everything they do. X
Elaine Harrington and Mikka
My friend Lesley rescued two dogs from 1 Dog At A Time Rescue UK. So, on I went to the website, wanting to love a second dog to be with my Battersea boy Kirk.
The moment I looked at the pictures, I stopped on our Mikka and fell in love. She was being looked after by who I feel is now our friend Sorrin, a fosterer for 1 Dog. Sorrin sent me updates, videos, and despite the language barrier we communicated, (it was a caring thing).
Mikka was the last baby off the happy bus in lockdown, one month late. You can imagine the excitement. Well, that was nearly eight months ago, we still chat with Sorrin. Kirk sadly passed away. But Mikka is the most loving and daft, silly, slipper loving dog I have ever rescued.
If I ever needed support, it was there. If I needed advice, it was there. I absolutely understand she was not in the awful kennel (thank God) but however you find your love in the form of a dog, does it matter? No!
I love the community that is 1 Dog and will support them always.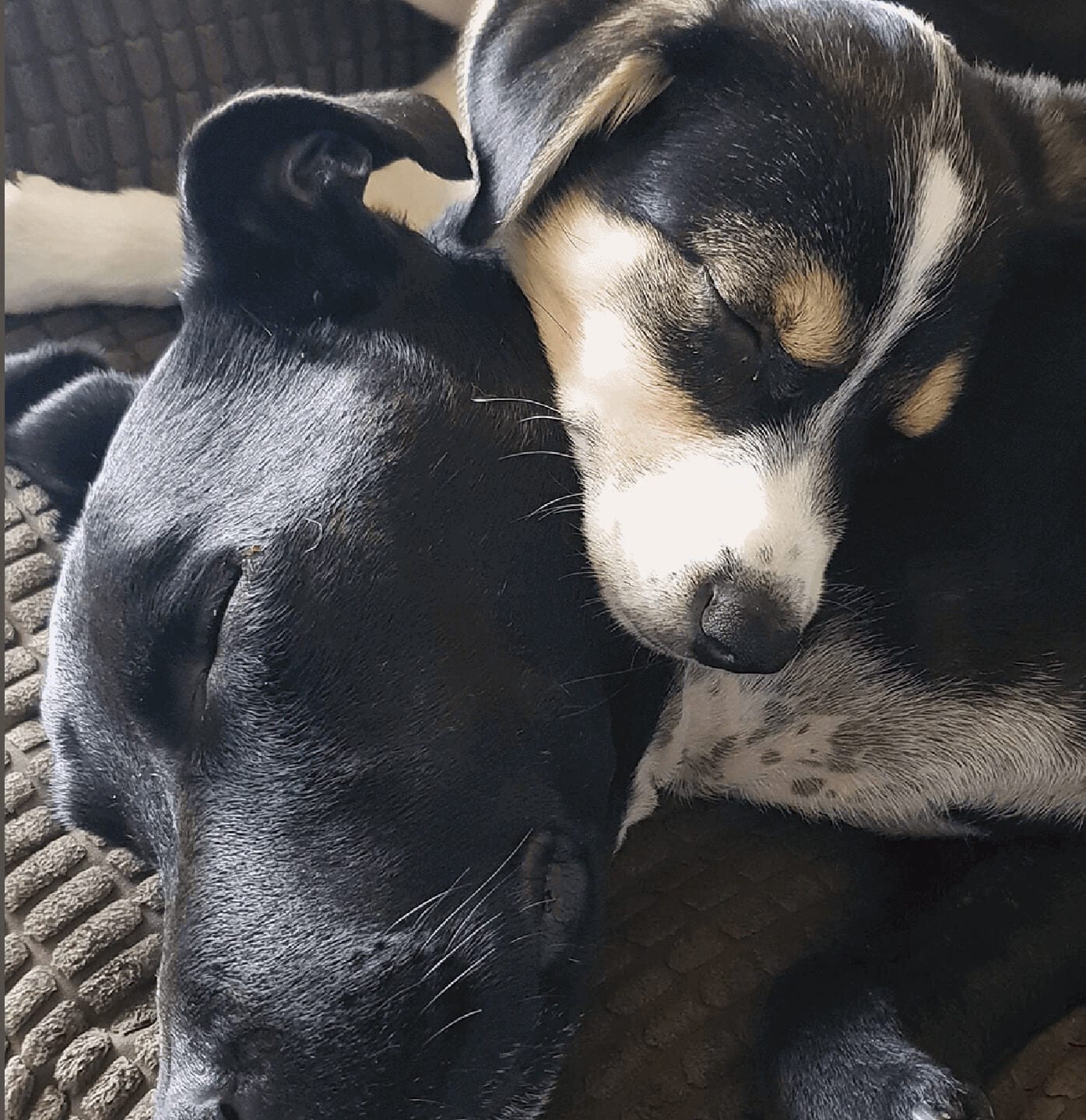 Elspeth Craig and Flora (Shelby)
We were thinking about a sister for our rescued staffie but hadn't done anything about it until Facebook showed us photos of Shelby and Scarlet. Before I had even had a proper discussion with my other half, he'd filled in the adoption form. Within 2 weeks, we'd had our home check done and were told the amazing news that we were getting Shelby. Although it meant a 10hour round trip to pick her up, it was totally worth it as she's made our family complete, fitting in straight away with no more issues than you would expect from any puppy. Whilst she's a cheeky nutter who makes us laugh every day, she's had the biggest effect on her big brother – although he's still scared of many things like fireworks and loud cars, Flora (as she is now called) takes his mind off it, usually by grabbing a toy and sticking it in his face until he can't think about anything else. There is rarely room in our bed as most of the space is taken up by 2 spooning, snoring doggies. Whilst we have adopted before, the advice and sense of community with 1Dog is amazing and unique – the adopters and fosterers page means we can keep in touch with the other dogs from Flora's happy bus including her sister. Whilst adopting any pet can be a challenge, it only takes a bit of time and patience to make it the most rewarding thing you can do 😊
Karen Hyden and Chrissy
We'd thought about adopting another dog but weren't sure where to start then a friend of mine adopted a beautiful girl from 1 Dog At A Time Rescue UK. We looked on the website and there she was our special girl, we fell in love at first sight so we filled out the application form for her which was really easy to do even for me, a lovely man called Ian came and did our home check which was very thorough but not as scary as we thought it would be, he answered all our questions and put our mind at ease about the adoption. Then we kept our fingers crossed…… A lovely lady called Jayne rang to ask a few more questions and she gave us more useful information and then told us we had been successful and we were to be Chrissys new Mom and Dad. The couple of weeks leading up to meeting our girl were hard, we couldn't wait and we didn't know what to expect but we were kept informed of every step of the journey she made and it was all professionally done. Holding Chrissy in my arms for the first time was one of the most emotional days of my life, she was beautiful. She settled into family life like a dream and if we had any teething problems we had lots of support from other adopters on the Facebook page no question we asked was unanswered, it's lovely looking at all the updates of the pooches. I can't thank One Dog enough they kept us informed every step of the way and have supported us to the present day and if we had more room I'm sure we'd have a house full of dogs. If you're thinking of adopting a dog please don't hesitate, these people,are amazing and care so much for the dogs and you are guaranteed 100% support.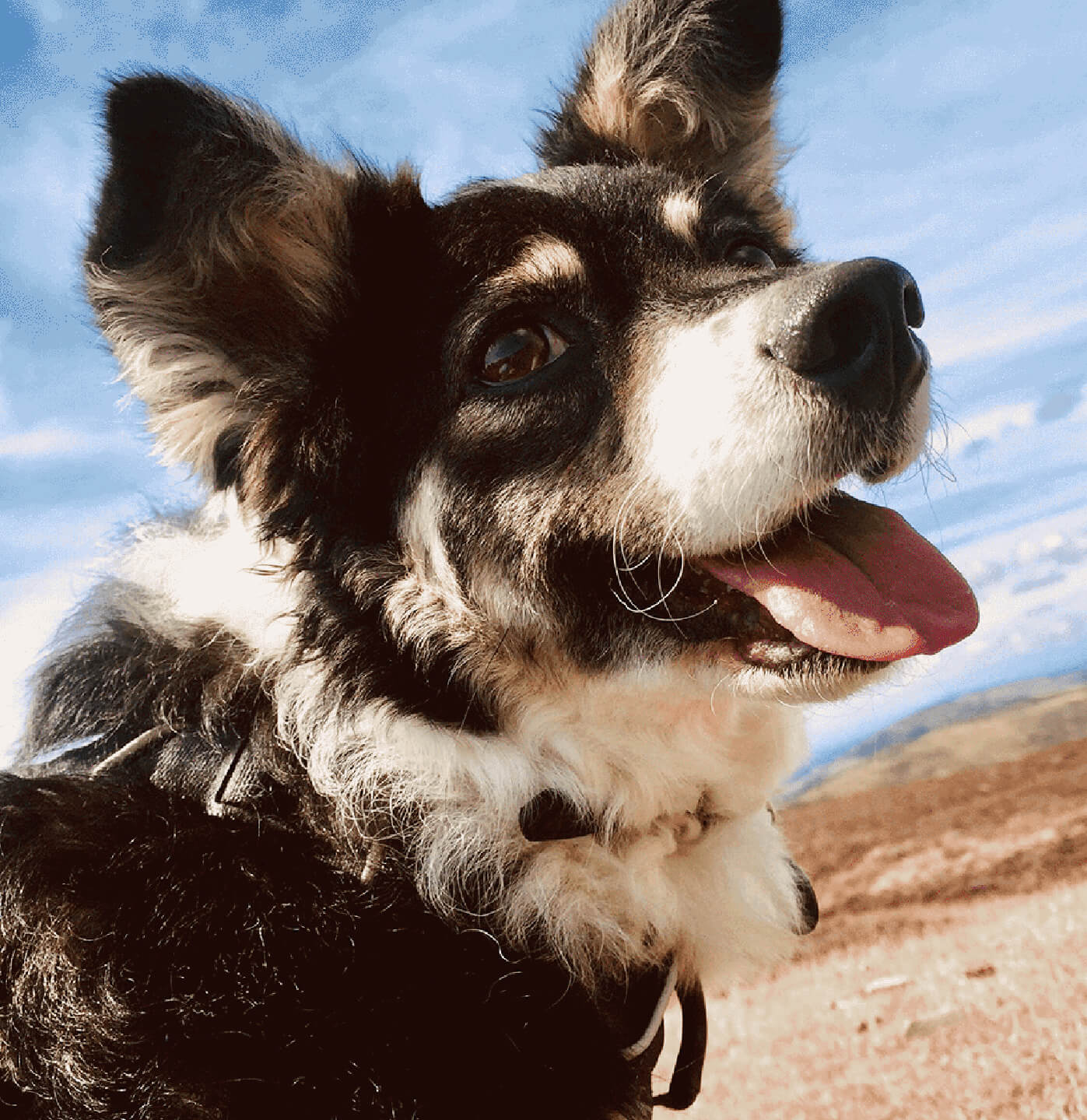 Ciaragh Hubert and Denisa
When I saw Denisa's video, of her taking her first steps after being found paralysed at the side of the road, I immediately fell in love. I'd had to learn to walk again a few years ago, after major back surgery, so I knew we were made for each other. Her courage and determination mixed with her big eyes and vulnerability make her an irresistible little dog. She has overcome so many obstacles and makes us smile every day. I feel very lucky that Denisa has become part of our family which she settled into so easily. Adopting a rescue dog has brought a whole new meaning to my life and has introduced me to a community of wonderful people who make me feel better about the world.
Sarah Childs and Fern
We adopted Fern last March. It was love at first sight when I saw her picture but as I already have my own dogs I was concerned about her fitting in. Mrs Ellis and Crina were fantastic in giving me a really honest and accurate description of Ferns temperament and she has proved to be the most wonderful kind dog who has fitted straight in with my gang. The adoption process was very straight forward and I was kept up to date of every step of her journey to our shores. I have to say it is exciting and Also very emotional picking them up when they arrive She was nervous initially with things like traffic and new places but she has blossomed over the past 10 months with us and now doesn't worry about traffic. You have to give them time to settle and not overwhelm them, but it's worth it. Fern goes to Agility twice a week and this has really helped build her confidence. Would I have another Romanian rescue???….. yes definitely 💕💕💕
We'd love to chat…
Are you looking to adopt a dog? Please find out more on our 'How do I Adopt' pages, where you will find costs and information on how to adopt one of our dogs. To apply to adopt a dog, please complete a registration form in the first instance and one of our rehoming team will be in touch in due course.
If your query relates to anything else and you can't find the information on our website, then please feel free to get in touch.