A dog that 1 Dog found with devastating injuries may have had a terrible start in life, but his Christmases all came at once when Rudi (AKA Percy) finally found a wonderful forever home.
Found on the streets
The 1 Dog At A Time Rescue team in Romania found a dog walking the streets. Blind in one eye and with precious little sight in the other and dragging his broken leg behind him, Rudi was found on the street in a pitiful condition with open wounds all over his body. Our vet told us that his badly broken leg must have been like that for some time, and it was evident to everyone that this gentle soul had been used as a bait dog.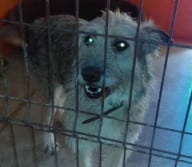 Like all our street dogs, he couldn't explain about the horrors he'd experienced, but the evidence was there for everyone to see; his fear of other dogs and the horrific injuries told their own story.
Call out on Facebook
We put a call out on Facebook for very special adopters who could help him to recover from his unspeakable injuries, but the months slipped by, and no one came forward. Rudi watched as other dogs arrived at Happy Tails and then went off to their new homes. He wasn't managing at all well in the kennels and to make matters worse, his battle-worn eyes meant that he was struggling to see.
We might not have had an adopter for Rudi yet, but at least we could do something about his eyes, so we put out a call on Facebook for donations for specialist eye treatment. We should have known that our wonderful supporters would come up trumps and true to form they raised an incredible £821 to help make Rudi see again. But what Rudi wanted most of all was someone to love him.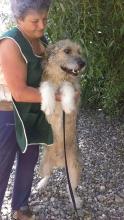 £821 was raised by our wonderful supporters to help Rudi see again
One Special Family for One Special Dog
It was difficult to tell with his damaged teeth, but we thought Rudi was aged somewhere between 5 – 7 years old, so no spring chicken. It wasn't just his body that was damaged; there were other unseen, psychological scars that might take even longer to heal.
But it only takes a moment to change a dog's life and Rudi's moment came when Kelsey and her mum Lou saw him at Happy Tails.
"We saw his video on Facebook and immediately fell in love with Rudi and just had to help him," explains Kelsey. "Everything happened quite fast after that. Pippa did our home visit to check that we would be offering him the best home possible and then a few weeks later Rudi arrived in the UK."
"I burst into tears when I first saw him," continues Kelsey. "From the moment he arrived, we could see that this poor dog was going to need all our support and love to get over what he'd been through. First of all, he wouldn't come inside. Maybe it was because he couldn't see the brown carpet. Who knows, but he was very shaken and disorientated. For the first few days, clearly in distress, he lay on his belly panting whilst we sat with him quietly giving him space to sort himself out as ultimately he did."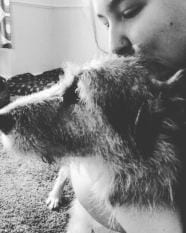 Rudi in his new home
Little steps
It's been a succession of little steps combined with lots of love from his wonderful adopters, but today, Rudi's life couldn't be much better. He's settled, happy and clearly loves his new home.
But what about his adopters, how has life been with Rudi and do they have any regrets about helping such as damaged dog?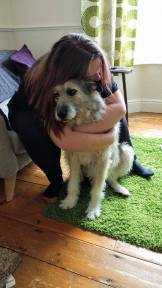 "We couldn't imagine our lives without Rudi," says Kelsey. He's completely changed our lives.
"We keep him on the lead as he has no road sense and chases bikes, cars etc." continues Kelsey. "He's sometimes frightened of other dogs but is starting to overcome this and even has a girlfriend. He hardly limps at all now, and he seems to be managing well despite his poor sight and missing teeth. He seemed to take doggy daycare in his stride and passes every test with flying colours. He's incredible. We couldn't imagine being without Rudi. He's completely changed our lives."
Just a few reasons why they love Rudi by his adopters, Kelsey and Lou.
In fact, as you can see from Kelsey's stories about her and her mother's life with Rudi, it would be difficult to imagine a better life for Rudi, the former bait dog.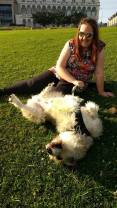 He Loves rolling on his back – on the grass mostly.
He's happiest when he's going out for a walk and if he had his way we'd be out all day long.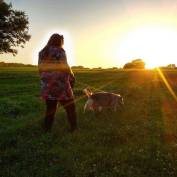 He likes looking at the sea and dunking himself in it when we're on the beach.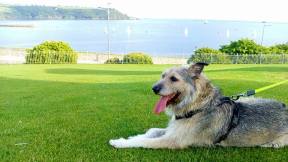 His favourite way to play is gently chewing on my hands and play wrestling with me. He also makes lots of funny noises whilst we're playing. We jokingly call him 'Chewbacca' because it sort of sounds like how he sounds. He likes playing tug of war.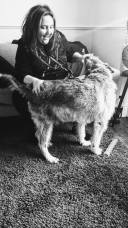 He's scared of thunder and not that mad on fireworks. We always make a fort for him if it's thundering and give him Valerian drops.
If you would like more information on how to help your dogs deal with thunder or fireworks (loud bangs) then have a look at our article by clicking here.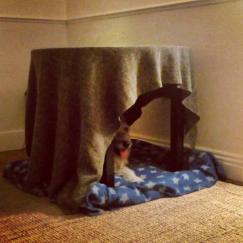 He chases squirrels and anything with fast-moving wheels which is why the lead is a must.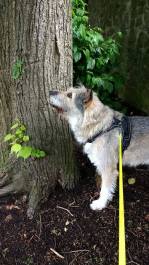 He has a piece of hair on his head which you can spike up into a mini Mohican which we sometimes do. I'm sure it annoys him though. Aha! But we think it's hilarious.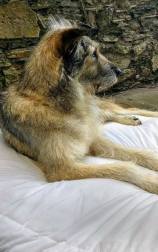 We couldn't imagine being without Rudi. Our lives are 110% and more fulfilled. He's just perfect.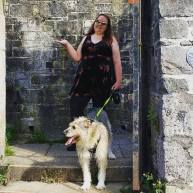 If you have what it takes to transform a Romanian dog's life, then please check out the dogs available on our website and get in touch. As usual, we're full to bursting at Happy Tails so you won't just be saving 1 dog, you'll be freeing up space for other desperate dogs waiting to have their lives transformed.
Please click here to contact us if you would like more information on 1 Dog At A Time Rescue UK.