Safe car travel with your dog.
Most of us travel with our dog in the car at some point, whether it's to the vets or out for walks. But did you know that you are breaking the law if your dog isn't suitably restrained whilst you are driving?
Here is what The Highway Code says:
Rule 57
"When in a vehicle make sure dogs or other animals are suitably restrained so they cannot distract you while you are driving or injure you, or themselves, if you stop quickly. A seat belt harness, pet carrier, dog cage or dog guard are ways of restraining animals in cars."
Securing your dog.
Your dog should be secured in the car, either in the boot of the vehicle using a dog guard to block access to the passenger part, a crate securely fastened or by using a harness with seat belt attachment. The last thing you want is your dog being hurled forwards like a cannonball should you have to brake suddenly.
We have a Land Rover Discovery car (mainly so we can fit our 54kg Romanian rescue dog in it). Baxter is a Mioritic shepherd dog, rescued from the streets of Romania by 1 Dog At A Time Rescue UK. As you can see, he takes up a considerable part of the boot!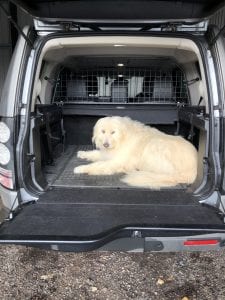 We have a dog guard in our car which we bought from JGS4X4. Depending on what car you have, you can get a dog guard specifically for your make and model of car, or use a universal one from somewhere like Halfords. Some dog guards also have a boot divider, so you can keep dogs separate during travel or keep luggage separate from your dog. The most important thing is that it's safe and secure and keeps your dog in the boot.
Just as an aside we have a rubber boot liner that fits the boot of the car. This boot liner has been invaluable for us to protect the fabric boot from mud, vomit and much worse! You can always use a blanket or towels etc. to protect yours.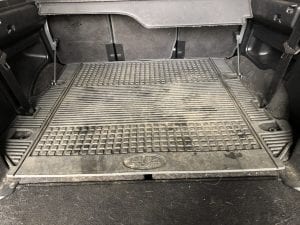 You can secure your dog using a well-fitting harness and seatbelt attachment. It is recommended that your dog is attached to the back seat, behind the passenger seat, so there is no distraction caused by the dog, causing the driver to lose control of the vehicle. Our dog Rosie is shown here on the front seat just for purposes of illustrating the seat belt attachment plus a suitable harness. As you can see, this attachment of ours has three types of seat belt connectors to choose from. It is secured to the dog's harness at the other end using a clip.
Get your dog used to travelling in the car.
Begin with getting your dog used to being in the car, no matter if they are a puppy or older rescue dog, even without the engine running and make it a positive experience. Then progress to short car journeys, building up the journey length time. Take them on trips to places they have a positive association with (i.e. walks), not just to the vets, where they may have a negative association. You can take their own blanket or toy with them too, as a bit of a comforter.
Some do's and don'ts for car travel with your dog.
Don't:
It's not a good idea to feed your dog immediately before travelling. It's probably a good idea to leave at least two hours before you travel. The last thing you want is your dog to be sick.

Please don't allow your dog to travel with its head out of the window. They could get something in their eye, bang their head on something or even distract other drivers.

Very importantly, don't ever leave your dog in a hot car. It doesn't take long for a car to heat up to dangerous levels, and it could be fatal.
Do :
Take regular breaks so your dog can have a drink, go to the toilet and stretch their legs. Lots of service stations these days have dog exercise areas.

Train your dog to wait before being asked to jump out of the car. It could be dangerous if they jumped out onto a busy road.

Keep your car nice and cool for your dog. Put the air conditioning on for them or open a window slightly, ensuring it's not wide enough for them to jump out.
Most of all, enjoy your wonderful dogs and have lots of fun and adventures wherever you may travel.
Please click here to contact us if you would like more information on 1 Dog At A Time Rescue UK.