Hello everyone and welcome to our first Newsletter of 2021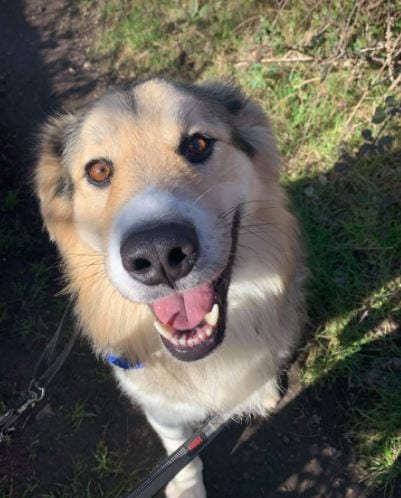 I don't think any of us imagined that we would be enduring our third lockdown as we started this New Year. I think we had all hoped things would have started slowly returning to normal by now. It has been a difficult year so far, with lots of challenges, but our team here in the UK and Romania have again pulled together and made sure we are there for the dogs that desperately need us the most.
Under strict Covid protocol, we will soon be welcoming our second transport of the year. A total of 40 dogs will have travelled to the UK and more transports are planned in the coming months.
Now that the UK is no longer a member of the EU, this has meant we have had to wade our way through the new and ever changing system of paperwork required to get our dogs here. The first transport in February 2021 was challenging. We are adjusting and learning, like everyone else, and with each transport, it gets a little easier.
Our Rehoming admin team have been inundated with application forms, working harder than ever before to get them all processed and ensure our dogs go to the best homes possible.
The fundraising team work tirelessly to make sure we receive the money needed to run Happys and to fund the improvements being carried out.
As I am sure you are well aware, dogs in Bistrita have a hard life, and we are just so glad that we can be there to help them. Our dedicated team out in Bistrita are doing a wonderful job caring for the dogs at Happys. We are extremely fortunate to have our vet Denisa, who is always on call for us and will come out at a moment's notice to help a dog in need.
Thank you all so much for your support; we really couldn't continue to do the work we do without you, our 1 Dog family.
Please do feel free to share this newsletter with your friends and families, and please keep checking our Facebook pages and our website for more up to date information.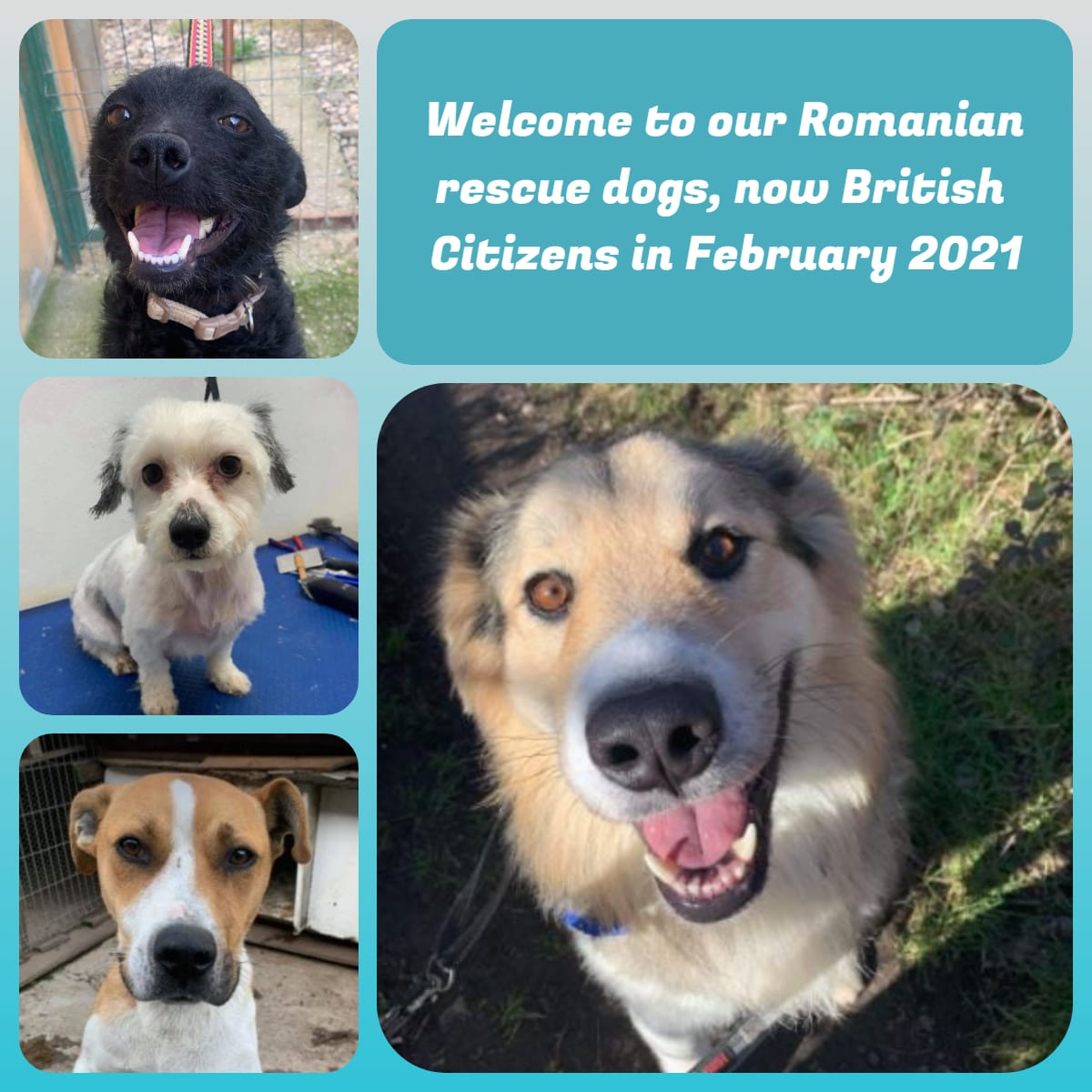 Meet Mia
Mia was found in a terrible state, abandoned on the streets. The poor baby had a huge lump which at the time looked like a massive tumour. We can only guess how difficult and painful her life up until her rescue had been for her.
She was rushed to our vet, and after careful assessment, this tiny girl was operated on. Thankfully the vet said it wasn't a tumour but thought that she had received a hard blow to her tummy, which had broken all her muscles, causing her intestines to come out. The operation to save Mia lasted 2 hours; a hernia to her other side was also found and operated on.
Mia is now recovering and is safe in our shelter, Happys. She has found a wonderful home and will be travelling to her new family soon, where she will be living with another 1 Dog that was rescued a few years ago.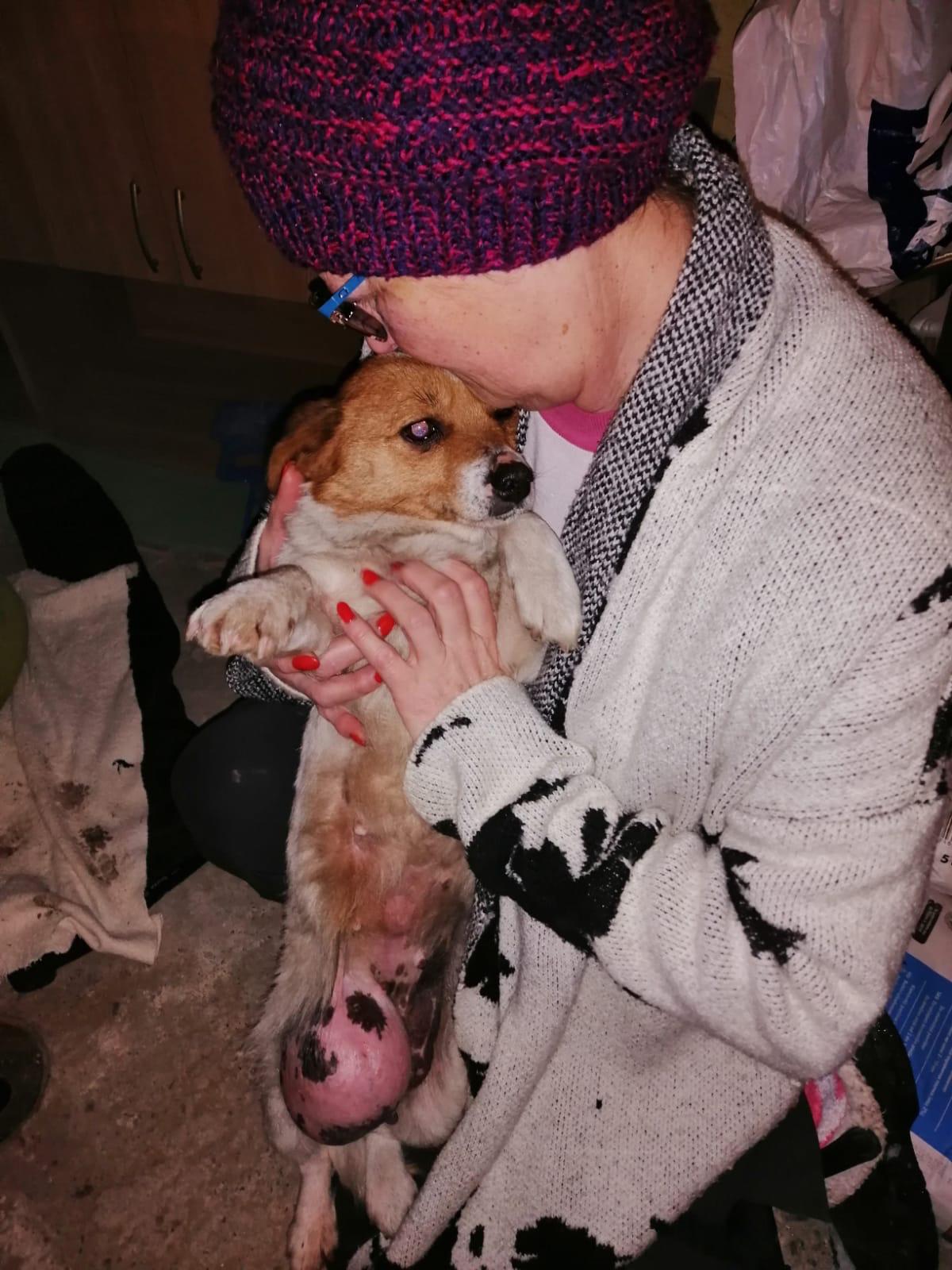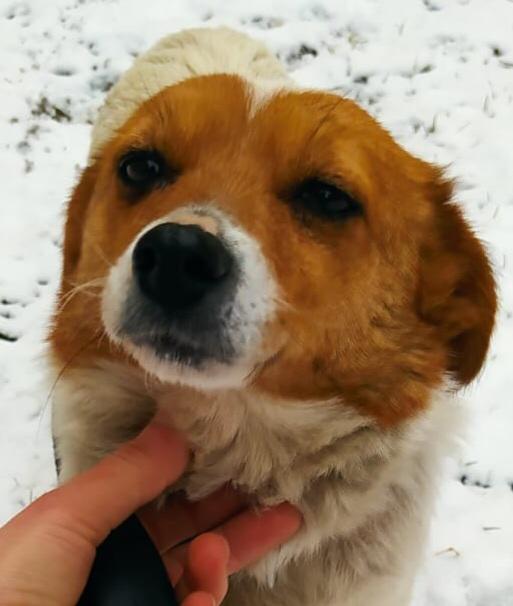 Jinni
Jinni was found abandoned in thick snow up in the mountains, heavily pregnant by our good friend Lakry. It was obvious that Jinni didn't have long before she was due to give birth, and the chances of survival for her unborn pups would have been very slim. She was brought to our shelter Happys where our vet checked her over, and a room was quickly made to receive Jinni and her soon to be new family. It wasn't long before Jinni delivered her 3 girls and 2 boys; all are doing well.
Jinni, who is really just a baby herself at approximately 18 months old, is proving to be such a wonderful mummy. She has the sweetest, most loving nature and is totally devoted to her babies. Once they are weaned, we will look to find loving homes for Jinni and her babies.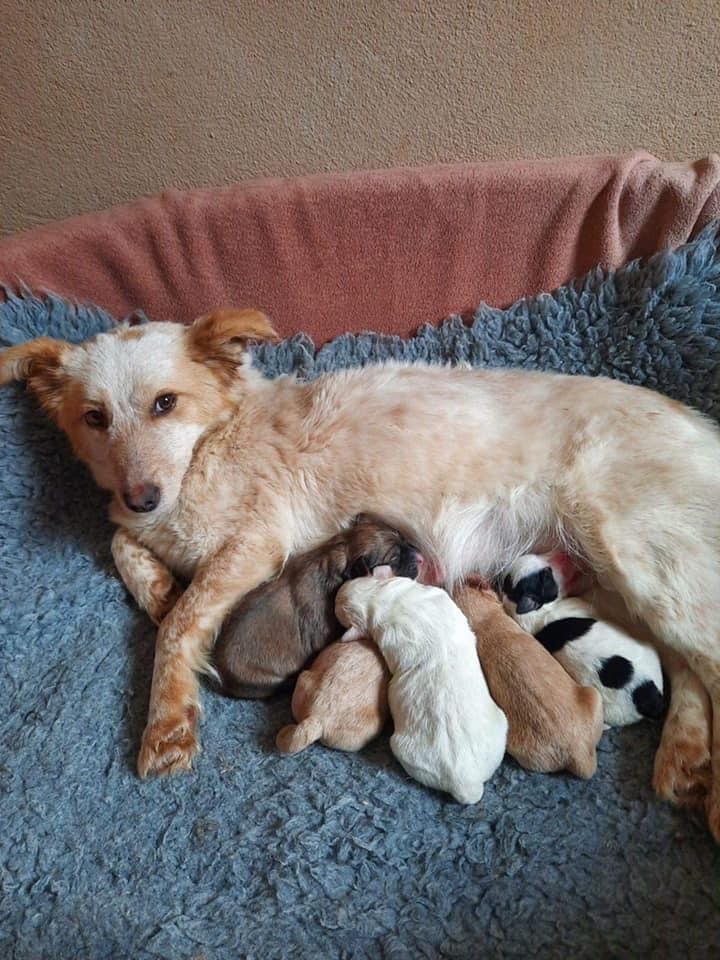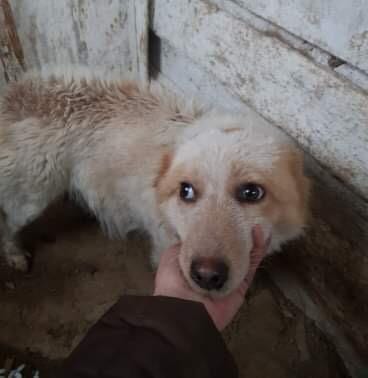 Happy Tails
We wanted to keep our amazing 1 Dog supporters up to date with all of our exciting developments at our shelter in Romania, which is called Happys.
One of the first things we needed to do was to make sure all of the repairs to our shelter were carried out before the winter set in. Once completed, we had a wish list of things we wanted to do to make Happys even more efficient and dog friendly.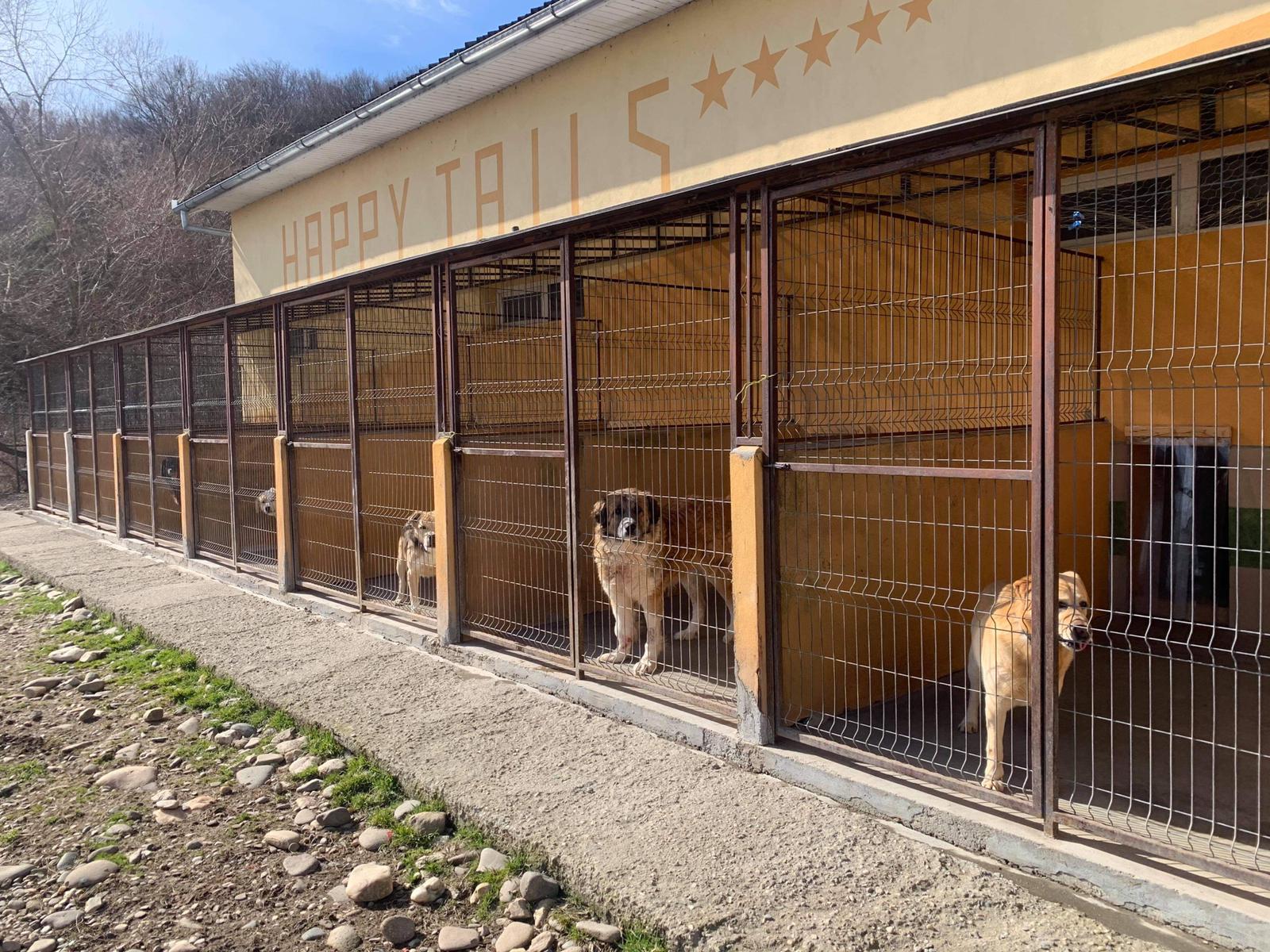 A new roof was erected over our existing outdoor runs
This new roof has proven invaluable and has given the dogs more outside time, even when the weather outside is not favourable. Once completed, we looked at ways we could use our existing space outdoors to help even more dogs.
The top paddock ( rear of the building) has always been used as an open exercise area, but for safety reasons, only so many dogs could use it at the same time. We knew that it must be developed so that more of our wonderful dogs could get to be outside in the fresh air, but at the same time, they would be safe and secure. Late last year, we had two full size shelters fenced off for some of the dogs to get playtime while the kennels were being cleaned.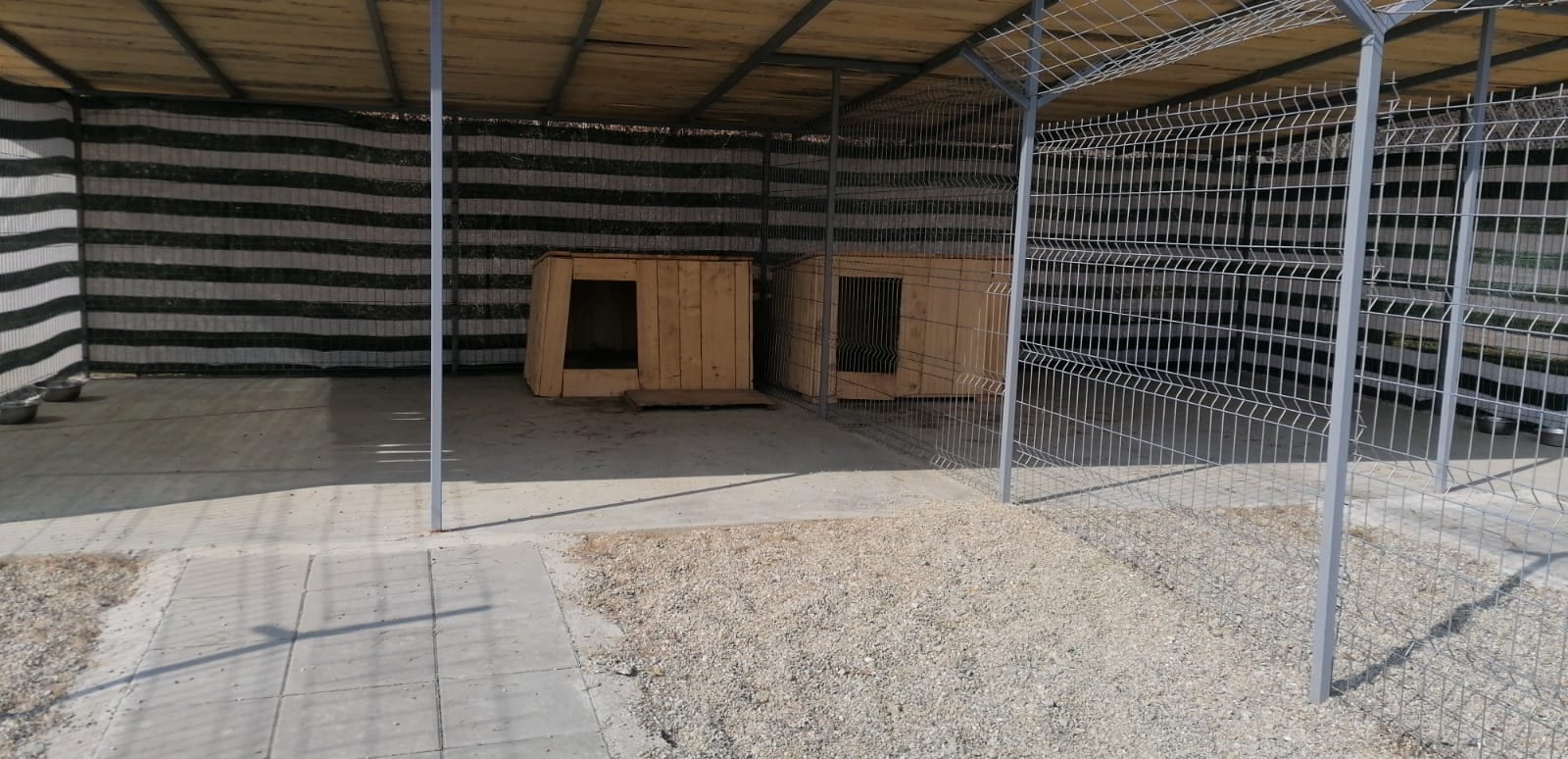 It's worked so well that today we are delighted to announce that we will be building a further three runs with partial cover and shelters. Work will start in the coming days. This will mean that so many of our dogs and puppies can be left outside all day to run and play in the fresh air.
As you know, we have new guests arriving and leaving all the time, and we are truly delighted with the wonderful new homes that we are able to find. This is only with your help that this is possible. You all play such a vital part in all that we do, so on behalf of all the 1 Dog team and more importantly, on behalf of all of our wonderful dogs, a great big THANK YOU.
Dreams do come true – meet Chase an American Bulldog cross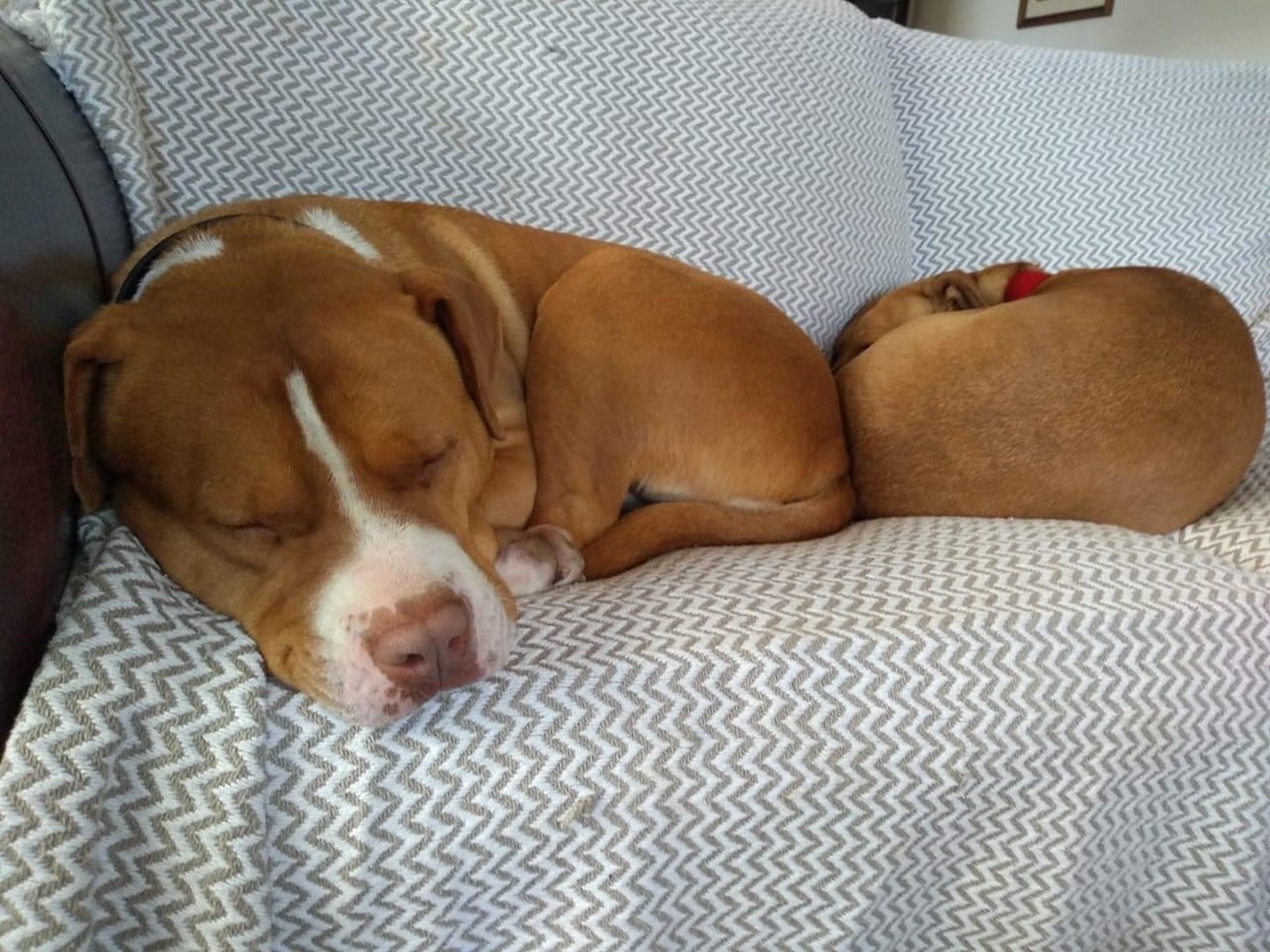 Chase looks very happy snoozing on the settee, a world away from his previous life living in the public shelter
Our very first dog as a family was a Border Terrier named "Scouse"and we had her for 12 years until she had a stroke and died. When we were contemplating another dog, we had heard a lot about Bull Terriers in the news and Pit Bulls specifically. English Bull Terriers at this time had also got a bad name as people did not understand their temperament and only saw their looks. We looked up the rescue kennels for EBT and picked "Minnie"; she was a white EBT and stone deaf. People were scared about all they read about Pit Bulls and got the breeds confused. A few times whilst out walking, people would shout at me to "get that dog muzzled" or "what an ugly dog". I found this very upsetting as to my eyes she was beautiful. We only had her five years as she got a twisted bowel and died. We missed her so much that ten days later, we got our next rescue EBT, Sasha, a brindle. Sasha was not good with other dogs, but she loved people. We had her for 12 years, and we were bereft when she died and decided it was too heartbreaking to keep losing dogs.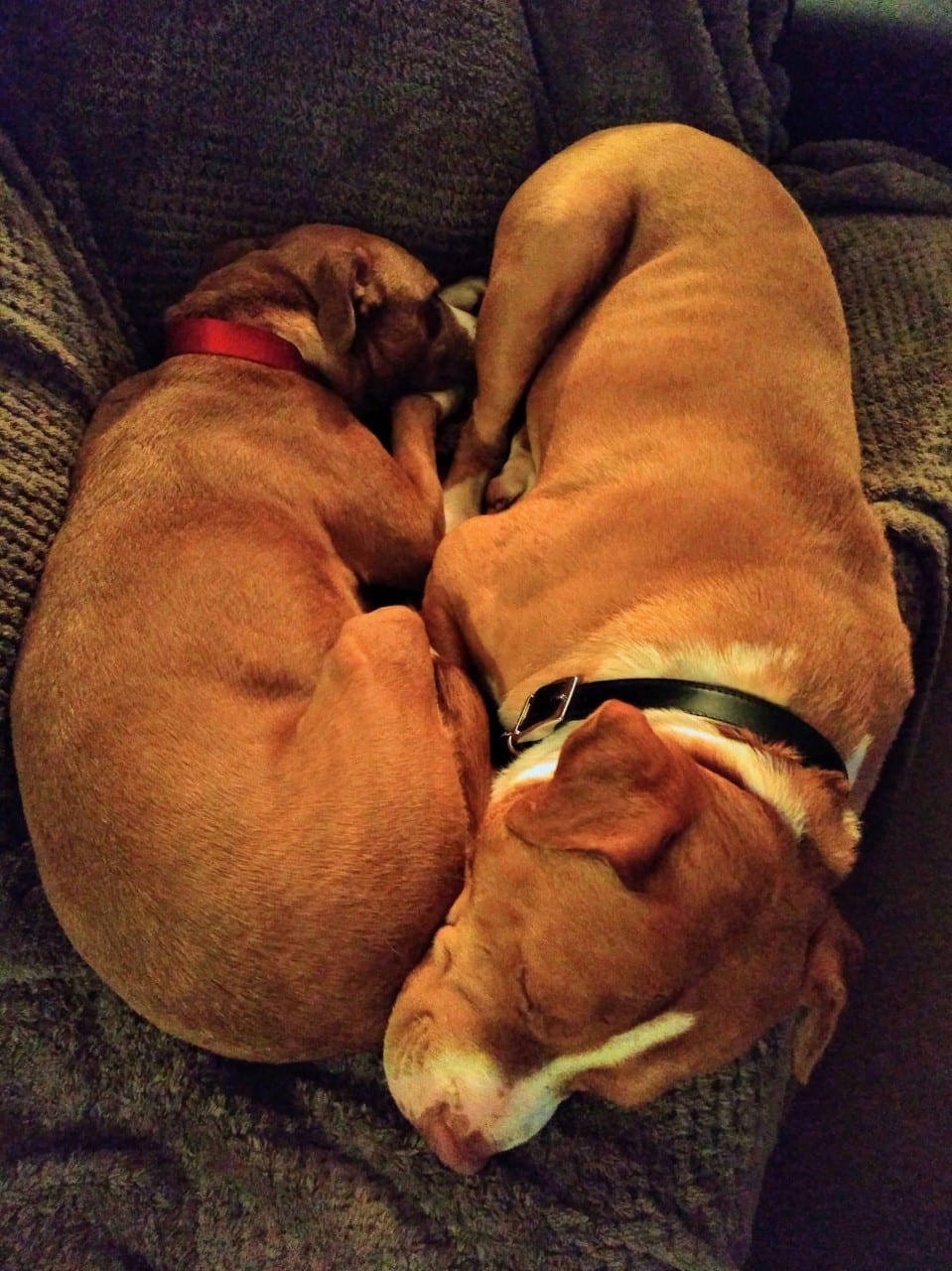 Chase snuggling with Folly
Three months later, our son asked us to pop to the vets to pick up his cat's medication (and pay for it)!! Whilst there a lady brought in a male EBT which was the image of Sasha. We found out he was a year old and was her mother's dog, who was quite old, could not handle him and wanted to re-home him. This was our next EBT "Reggie". When he was 9, due to arthritis, we could not walk him very far, so we rescued a staffy/whippet cross (Folly) as we were now retired and loved long walks in the woods where we live. We had Reggie for 12 years until last August when we had to have him euthanised due to his many health problems. We were devastated. After a couple of months, we started looking for another EBT as we were used to being a two dog household, but it would seem that they are now "trendy" and though we searched high and low, there were not any available. We had given up, and I said to my husband, "a dog will find us".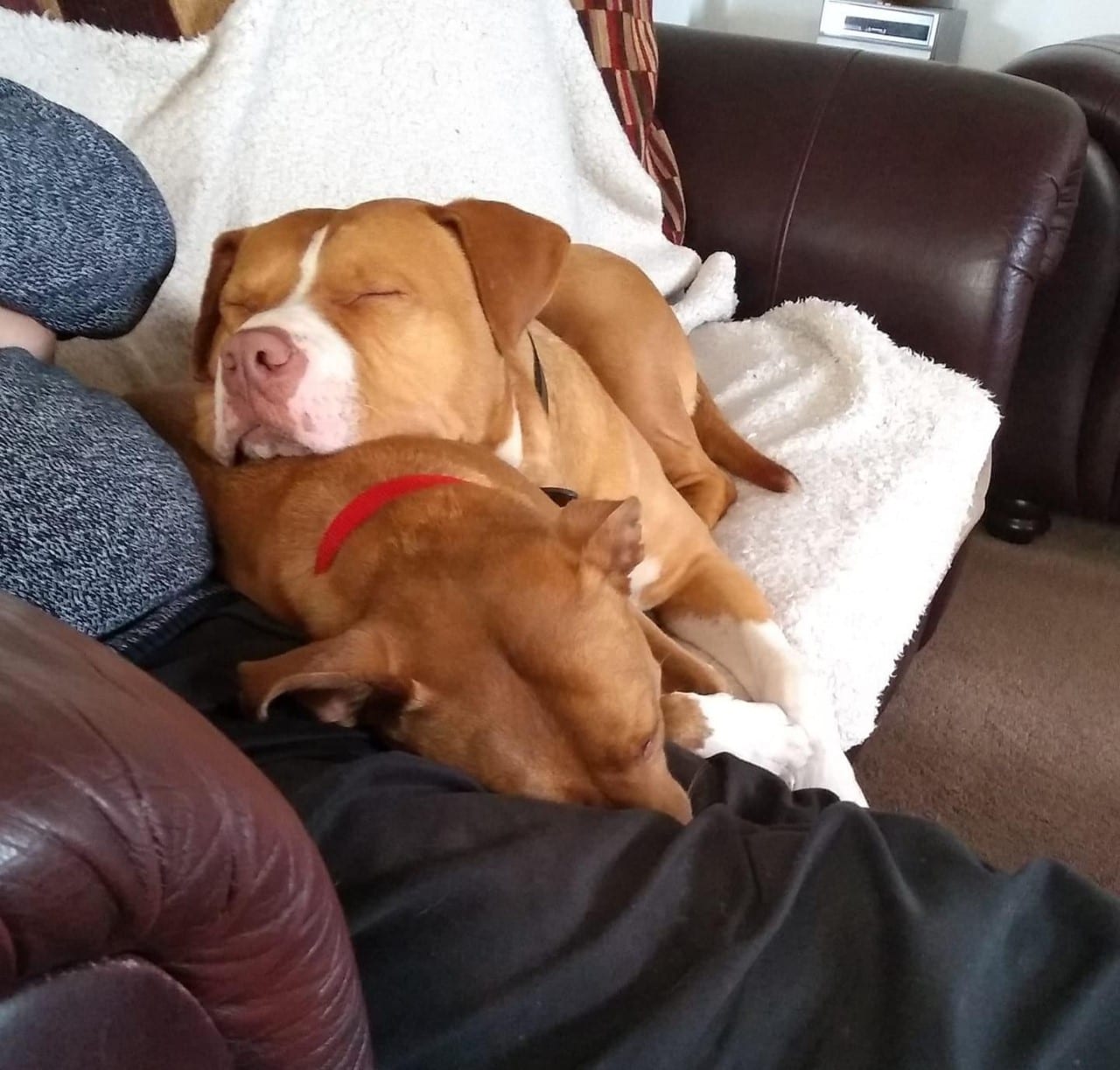 Chase and Folly are loving having cuddles with their dad
In December 2020, a friend sent us a link to 1 Dog At A Time Rescue UK, to show us the dog she was rescuing. I thought we may as well look at what other dogs were available, and that is when we came across Chase, an American Bull Dog cross. It broke our hearts to see him in that awful place, the public shelter, and we felt that this was the dog that was finding us. We thought we would give it a try and were delighted when our application was taken seriously. We have had Chase five days now, and he has been a delight. I am not saying that there has not been a couple of issues, there always are with rescues, but we are getting over them. He is very intelligent and has learnt the command "sit" and is almost there for "paw". He does not like our hens too much, or perhaps he does as an appetiser; it is just as well they are in a fox (and Chase) proof area within our garden. Chase adores my husband and loves snuggling up to him on the sofa. He also loves watching TV. I think he sees me as the disciplinarian, but if Bob is not around or if I am in the kitchen cooking, he has worked out this is where the food gets accidentally dropped on the floor. It is early days yet, but Chase is proving to be the dog we were looking for and who was waiting for us. By Linda Snowden.
A word from our fundraising team
In these unprecedented times, when charities are so restricted in their fundraising activities, our auctions have been a lifeline, ensuring we can still be there for the dogs, waiting desperately for our help. Our amazing team have continued rescuing dogs throughout the pandemic.
With limited shops open, our auctions thankfully have proven to be popular. Goodbye to queues, masks and paying to park and hello to shopping from the sofa. If you haven't already visited our auction page, then please pop by, take a look, and better still, place a bid or two. We really have something for everyone. Every single penny we raise goes to the dogs.
We are always looking for donations or raffle prizes and would love to hear from you if you can help us with either. Please feel free to add your family and friends to our auction; everyone is very welcome. Please send us an e-mail if you would like to donate or even volunteer; we would love to hear from you. juliawebb@1dogatatimerescue.org
A message from Kate the newest member of our fundraising team
I'm new to 1 Dog at a Time, and we're currently, very excitedly, waiting for our four-pawed arrival at the end of this month, but I already feel very much part of the 1 Dog family as everyone is so friendly and welcoming. So, if you fancy helping out, it's really easy to make a difference.
We had recently moved house and, I thought, de-cluttered, but a quick scout around and I'd gathered quite a few bits, jewellery, books, and lovely things from my Mum's wardrobe, which has always been more extensive (and expensive) than mine! I also put a shout-out on my local Freecycle network and was delighted to get offers from people grateful to find a de-cluttering outlet while charity shops are closed. Dog-walking friends locally are also keen to contribute, which is lovely.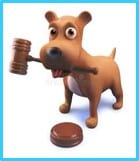 So, items gathered, photographed, starting bids decided, and postage calculated, click, click, click, so satisfying to see your items join the others on auction 'album'. Then, even more exciting as the bids come in and you send out messages of encouragement, it's the most fun I've had over the past few weeks!
A small dedicated team runs the auctions every month, supported by an amazing network of creative and generous artists, bakers, knitters, and jewellery-making friends and family. Together, they aim to raise around £1,000 each month, vital to meet the ongoing expenses of Happy Tails shelter, in particular the recent addition of the much-needed outside runs.
The February auction raised £1154.00, the runaway success being our 'Seeds of Hope', beautiful packets of wildflower seeds, perfect for gardens and the environment and ideal to pop into a card to friends or family. Such a lovely idea and one which obviously struck a chord as we sold 178 of these £1 packets – brilliant!
If you missed out in February, we promise more in March, and it's a great time to sow.
There's also a raffle with a fabulous prize each month, and if like me and Jacky, who also recently joined the Auction team, you fancy having a go too, please do get in touch; you'll be made very welcome!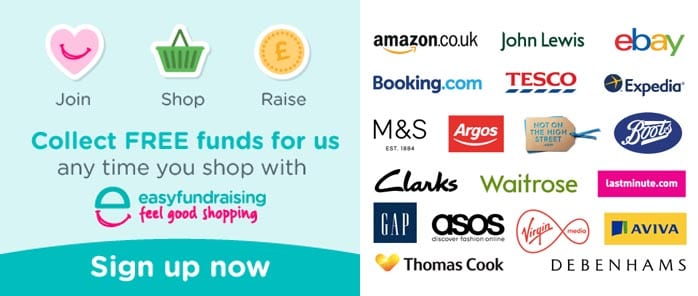 Did you know that whenever you buy anything online – from your weekly shop to your annual holiday – you could be raising a free donation for 1 Dog At A Time Rescue UK? There are nearly 3,000 retailers on board ready to make a donation, including Amazon, John Lewis, Aviva, The Trainline and Sainsbury's – it doesn't cost you a penny extra! It's really simple; all you have to do is:
1. Join – Head to easyfundraising and sign up for free.
2. Shop – Every time you shop online, go to easyfundraising first, pick the retailer you want and start shopping.
3. Raise – After you've checked out, that retailer will make a donation to your good cause for no extra cost whatsoever!
There are no catches or hidden charges, and 1 Dog At A Time Rescue UK will be really grateful for your donations.
Thank you for your support.
A truly unique and meaningful way to treat your loved one, friend or colleague, as well as one of our dogs. Perfect for every occasion.
Our Gift Cards come in three different denominations £10, £15 and £40. Great to give by themselves or maybe with a bottle of wine, a candle or box of chocolates.
– Postage is £1 up to 4 vouchers or £1.40 5+ vouchers.
– Vouchers come with envelopes.
– Vouchers are postcard size.
We can post directly to the recipient and can include a card with a message from you if required.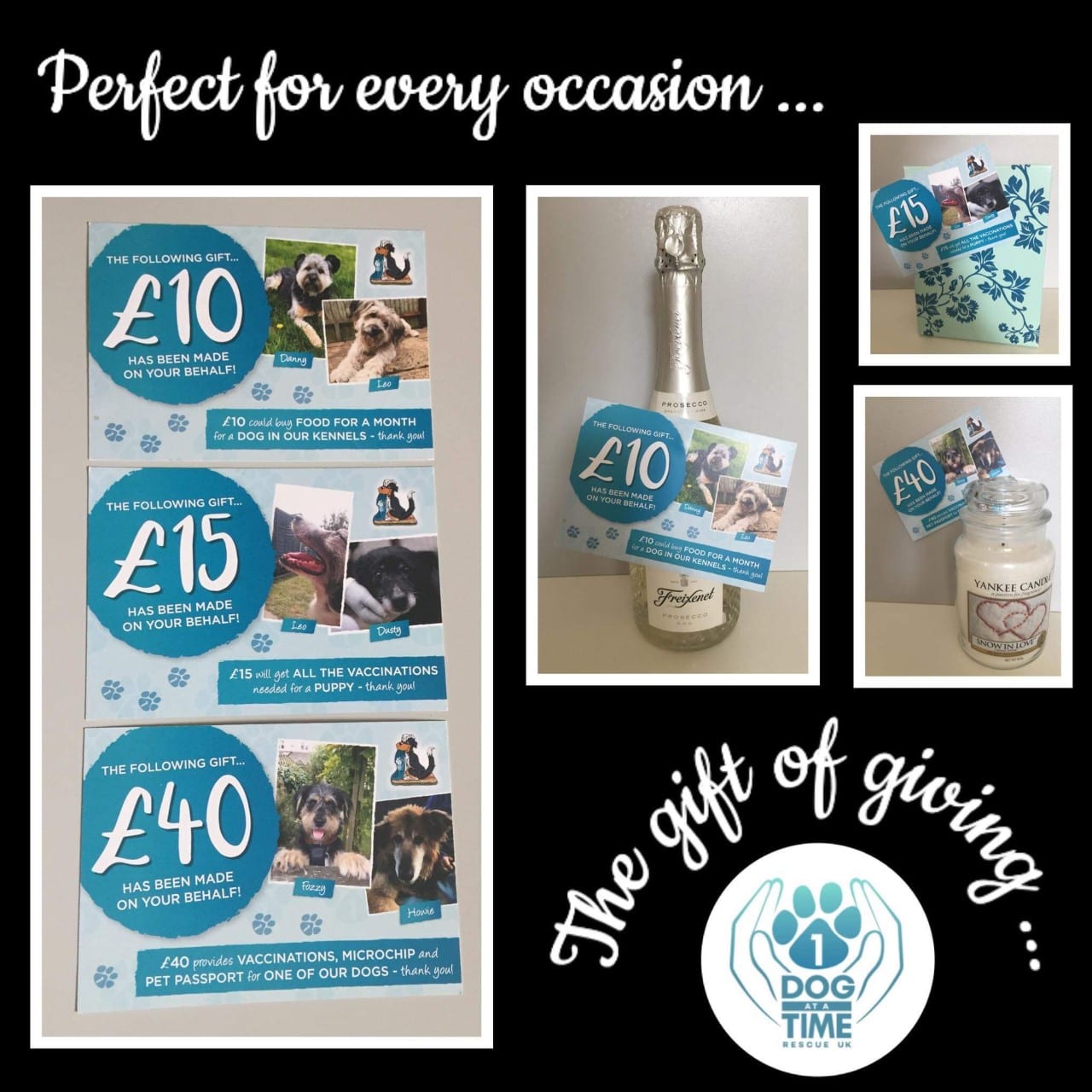 How Guta and Mickey became Jambo and Buddy
We had a rough collie, known as Lassie for 15 years, until she sadly passed away in February 2016. Losing Lassie was very tough for us all. Since then, we have had two cats, one of which was elderly, so we were concerned about introducing a dog to the household, although we desperately wanted to, and I continuously kept mentioning and giving big hints to my wife.
Sadly, in November 2020, Max, our elderly cat, passed away, and in early December, we were both at home, and my wife was working in her home office. I entered the office, and she was looking at the internet and to my extreme surprise said, "what do you think about these two dogs?". Yes, Guta and Mickey (the boys). My response was they are lovely, such beautiful faces with lovely eyes. I questioned my wife, "are you serious" and she said," yes". I was so excited and could not believe that we were going to have not one but two lovely dogs.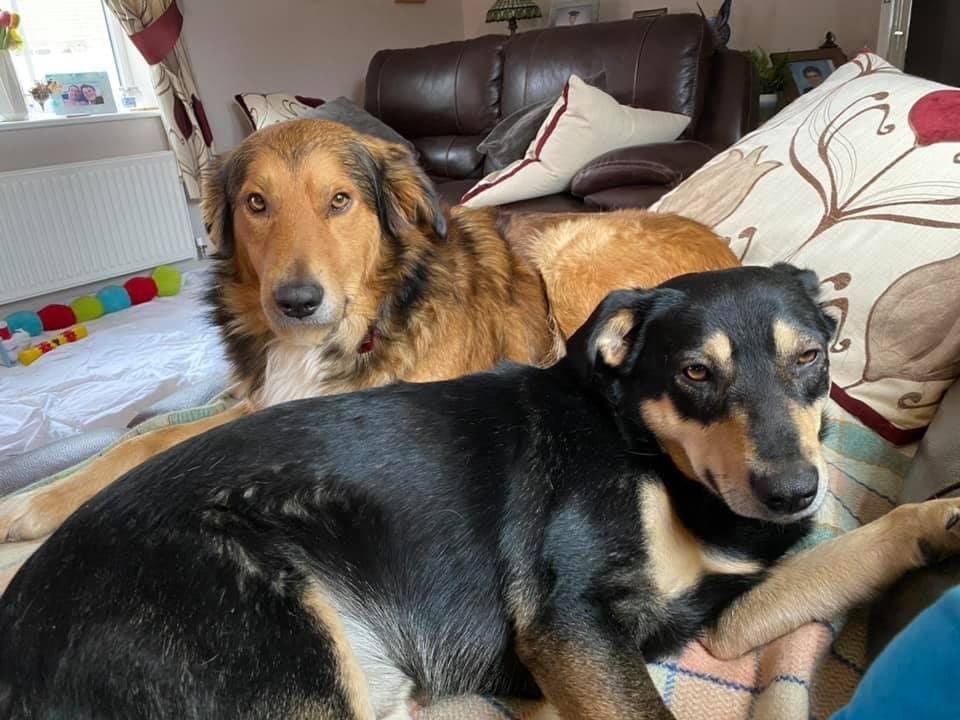 Jambo and Buddy are settling into their new home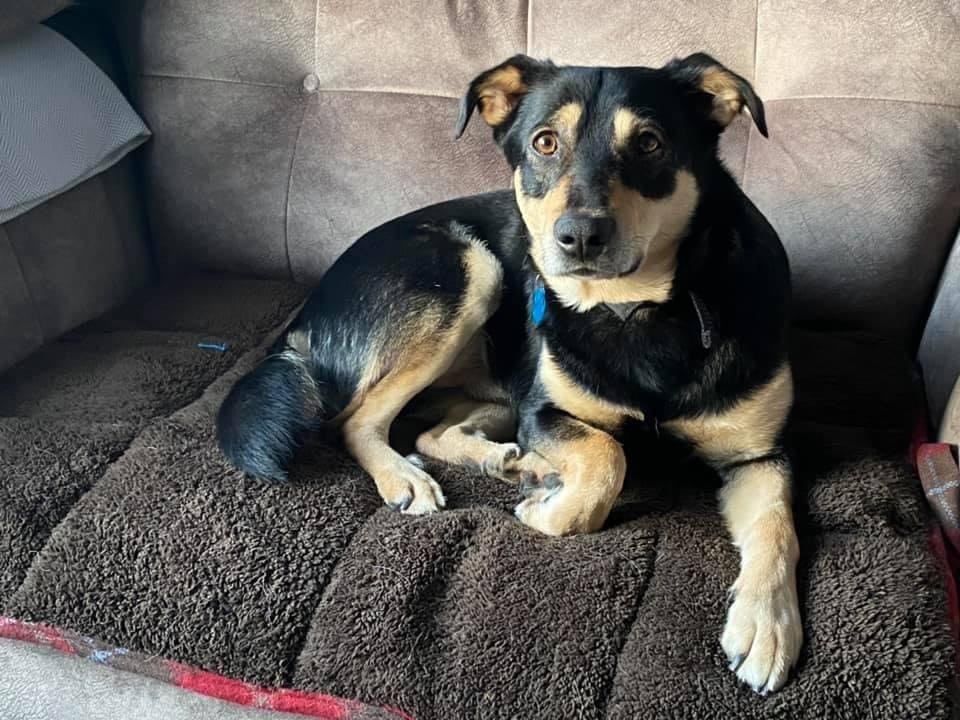 Buddy looks very comfortable on the settee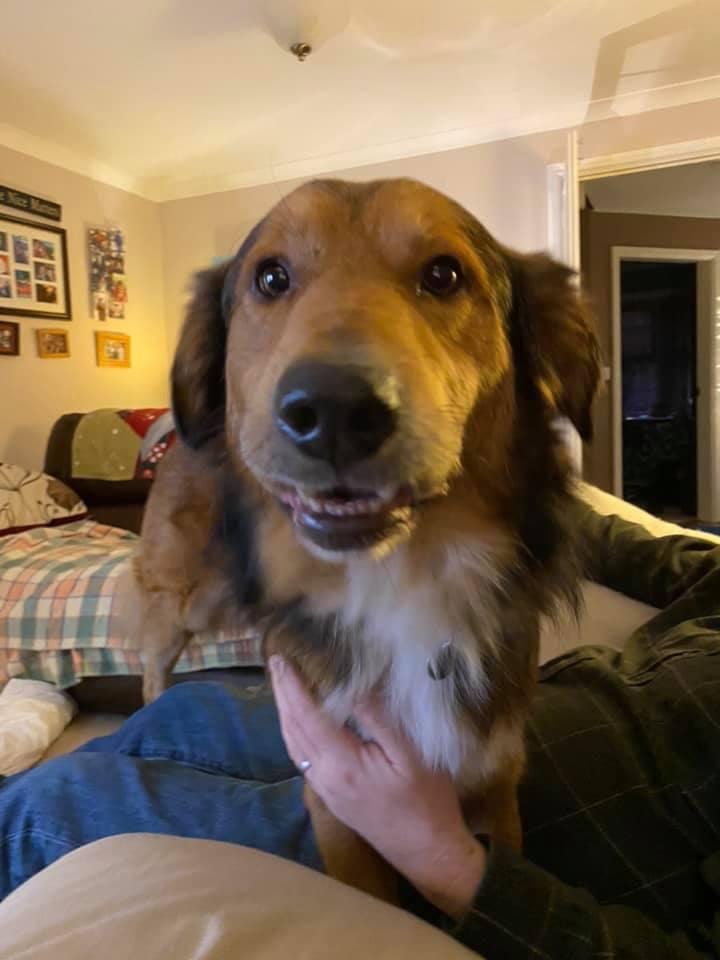 Jambo is clearly enjoying having a stroke
Things then progressed very quickly; we completed the adoption application. I then called Lesley with some questions and then started taking photos of the garden and the house. Before we knew it, we were having a virtual meeting with Jayne.
I thought the process was very thorough and sincerely committed to making sure we were right for the boys, and they were right for us. We answered all Jayne's questions, and she was happy with our responses, so the next step was to visit the boys in Birmingham, where they were staying with their lovely foster mum, Wendy.
Sunday afternoon came, and we went to visit the boys, so excited. Clear instructions from my wife, "Do not go lying on the floor with the dogs, show some restraint". Well, what do you think happened? I immediately failed. We had a lovely afternoon with Wendy, the boys were adorable, and we definitely wanted to adopt them both.
Jayne had advised us that we have 24 hours to think about it; we didn't need that long, we couldn't wait to adopt the boys and start loving them.
Wendy was so helpful and loved them after only four weeks of being with her since they arrived from Romania, and we realised that giving them up was going to be very hard for Wendy. We assured her that we would look after the boys and would love them, and she could visit at any time, being only 1.5 hours away from us. That week, we had daily updates from Wendy on what the boys had been up to; we also decided that we would like to rename the boys, Guta to become Jambo and Mickey to become Buddy. We checked this out with Jayne, and she was happy for us to change their names.
One week on Sunday, the big day had arrived, we went to collect the boys from Birmingham and brought them to their new home in Cambridgeshire, just in time for Christmas. The best Christmas present ever for us.
They have settled in so well, and they love everything we do with them; they both think that they are lap dogs, but clearly not lap dog size. They both spend lots of time with us; they are so cuddly and affectionate all the time. We are so lucky to have Jambo and Buddy in our life now and cannot thank everyone enough at 1 Dog At A Time for all their help and support and for making the adoption process such a lovely experience.
Our sincere thanks. Nigel & Cath Elias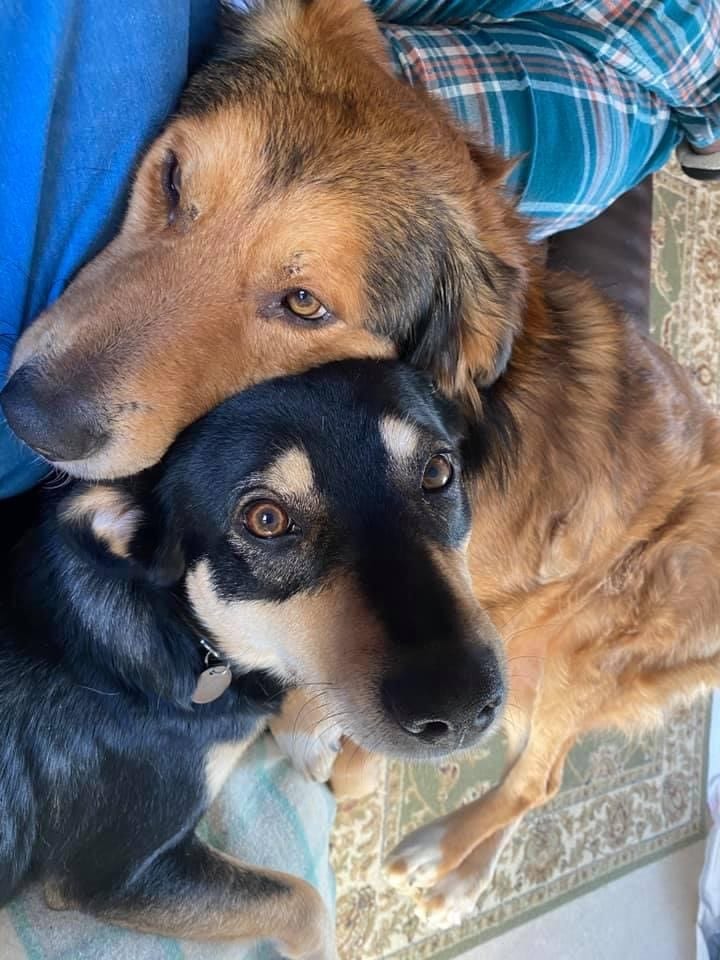 Buddy and Jambo look very happy to be together
On behalf of everyone at 1 Dog At A Time, can we thank you once again for your continued support and we wish you well in 2021.