… Who is the smartest of them all?
Answer = A Rommie rescue – every time!  
We've had dogs of every shape and size over the years, some smarter than others, but nothing compares to our Rommie, who is hands down (or should that be paws down) the smartest dog we've ever had in our family. She seems to know what we think before we've even thought it! Let's face it, the average Rommie has had to be smart to survive on the streets, and when they are lucky enough to find a loving home, we need to help them put that brainpower to good use.
Smart dogs can be easier to train. With the right support and encouragement, plenty of praise and of course some rewards, they pick things up really quickly. However, smart dogs also know their own mind and if they don't want to do something, then they won't!
The worst thing you can do to a smart dog is to let them get bored. They need mental stimulation, and there are lots of things we can do to help with that.
Walking
Whilst most of us have regular walks we take, try not to take precisely the same route every day, this can become very boring both for you and your dog. Try to mix it up a bit, take different routes and when you have time, jump in the car and go somewhere completely different. Dogs love to sniff, to them sniffing is like reading the newspaper, it tells them everything that has been going on in their world and who has been there. Sometimes it isn't easy trying to fit everything in, but if at all possible, try to allow your dog a few extra minutes to amble along and take in all the interesting sniffs rather than rushing them from A to B, it's so much more stimulating for them.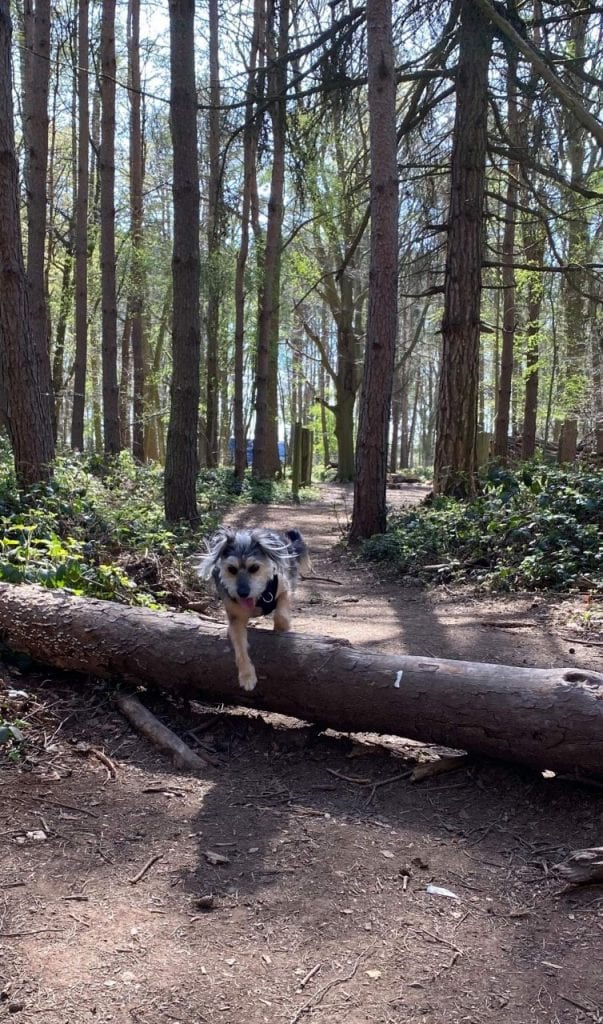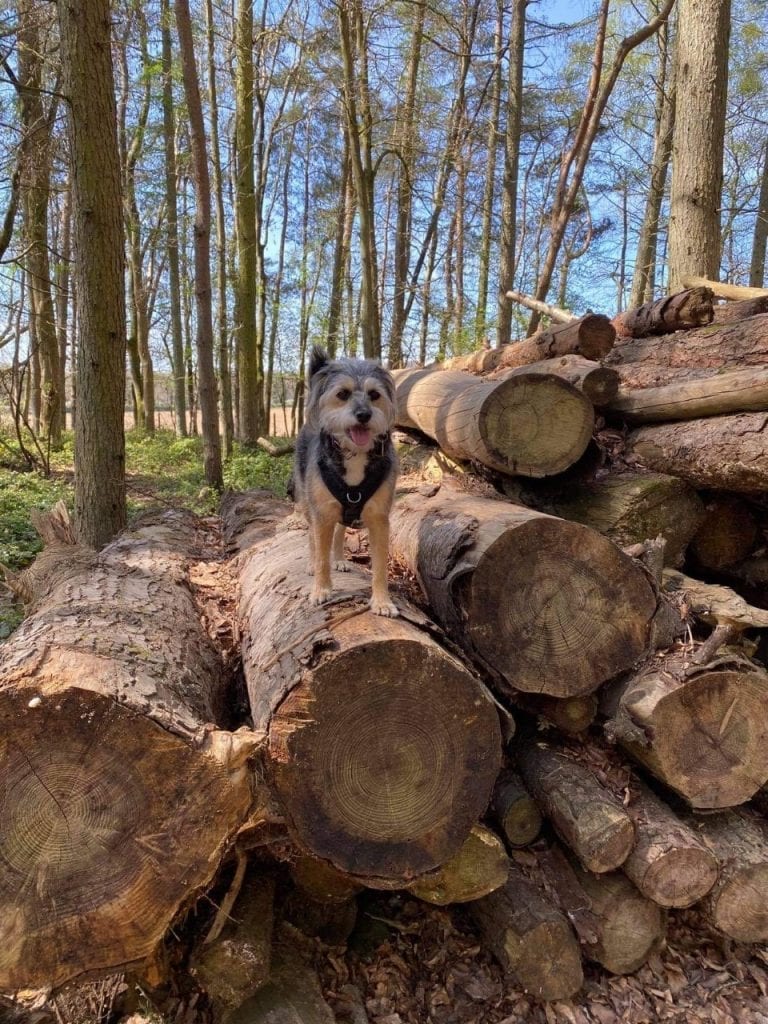 At home
We've all become somewhat conditioned to making our dogs food up and giving it to them in a bowl. They know the routine and hang around your feet whilst you make their dinner, you pop it on the floor and in a flash it's gone. What if you made breakfast and dinner a more enriching experience for them?
We have two 'Kongs' and something that resembles a rubber cactus. I put a mix of wet and dry food in her bowl (so I know how much I'm giving her) then I use a teaspoon to stuff it into the Kongs and the cactus. Then I hide some more dry food in a 'snuffle-mat' (ours is a felt mat, with lots of strips of felt sewn on top) you can hide dry food under the pieces of felt, and your dog has to snuffle about in the mat to hunt out the food. This means instead of her meal taking less than a minute to eat out of her bowl; it takes her at least 10 minutes to lick out the Kongs and then snuffle the dry food out of her mat. She's really had to work for her dinner, and she loves it. This can be incredibly helpful if you have a dog who seems to practically inhale its food. Eating in a rush can be bad for dogs and in some cases can cause a very dangerous condition called 'bloat' where the intestines can get twisted. Feeding them this way is not only more mentally stimulating; it also forces them to eat more slowly.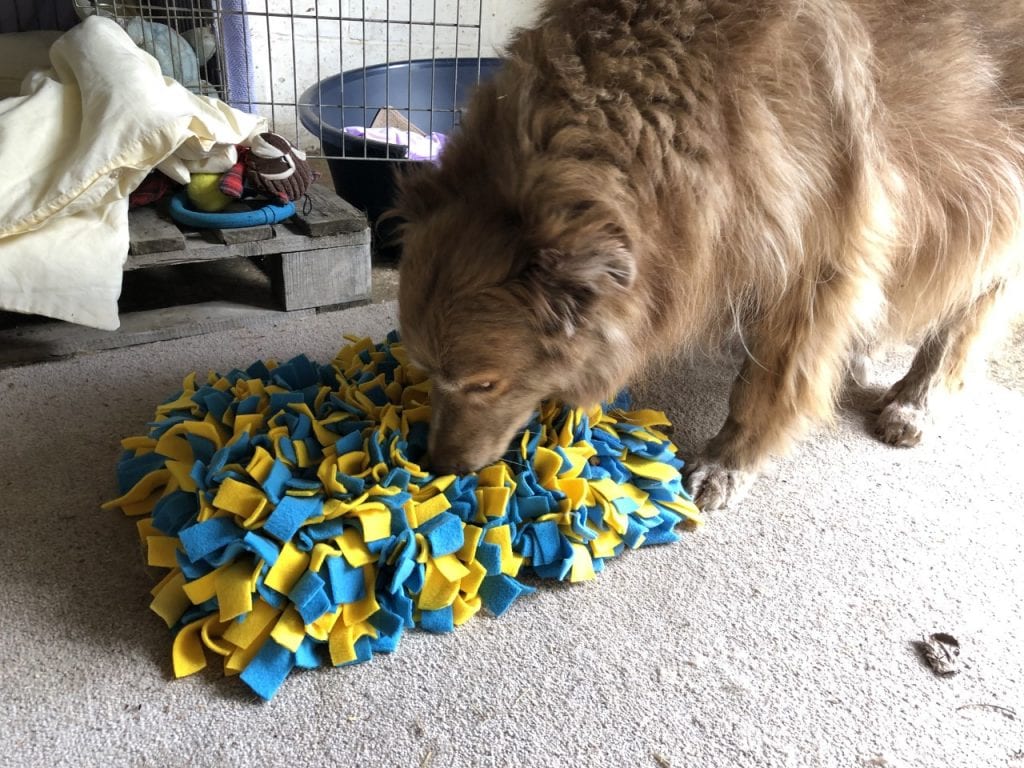 Games
As well as regular feeding times, there are lots of things you can do to provide entertainment for your clever pooch. We save all our toilet rolls, kitchen rolls and cardboard boxes. We stuff a small treat (the smellier, the better) into each kitchen roll and squash the ends down to hold the treat inside; then we pop several into a cardboard box. Around the rolls, I might stuff a few toys or some more cardboard packing – shut the box and give it to her. She spends ages 'unpacking' the box, hunting out the treats and then invariably destroys the box. It keeps her amused and does a pretty good job of breaking down the box to pop in the recycling bin! These type of activities are really stimulating for dogs; they love having to work it out for themselves.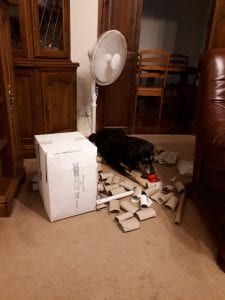 There are so many variations on this; we save egg boxes for the same purpose; you can also buy dog puzzle toys. There are some excellent Facebook groups on Canine Enrichment, where people share ideas they have tried with their dogs – they are really worth a look. Some things might not work with your dog, and you might need to experiment to find out what they enjoy.
Just like us, dogs need a range of activities to keep their mental health in good shape, there are so many things we can do to help them with that, and they don't have to cost a lot of money. Give it a go, but if you have a Rommie in your family, prepare to be outwitted by them every time. 😊 
Please click here to contact us if you would like more information on 1 Dog At A Time Rescue UK.