Here at 1 Dog At A Time Rescue UK, the Romanian dogs we rescue come in all shapes and sizes; from pedigrees to mongrels, from street dogs to abandoned pets. Whatever type of dogs they are and whatever their tragic background, we aim to match them with suitable, kind and loving homes. Potential adopters have peace of mind knowing that all our dogs are fully assessed prior to adoption, and our home checks help to ensure that adopters are a good match for our dogs.
Below are just a few incredible rescue stories of some of the dogs who have found their forever homes thanks 1 Dog at a Time Rescue:
Left out with the rubbish
William, a puppy, rescued by 1 Dog at a Time, was found by our volunteers at the communal bins in Bistrita, a well-known place where locals dump unwanted dogs. Although he was starving, at least he was still alive. His mum, who was found dead nearby, wasn't so lucky.
William alone after the death of his mother ..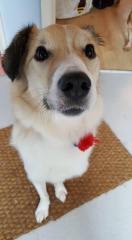 …. and today in his wonderful forever home
Traumatised
When Molly was discovered in the public shelter by our volunteers, she was too traumatised by her past to do anything except sit at the back of her cage, shaking. Her abject fear of strangers and anything that resembled a stick were the only clues to her horrendous past, and this little dog had to all intents and purposes shut down. Today, thanks to the team at Happy Tails, Molly is now enjoying the good life with her family, plus a few doggie pals from the charity and two Jack Russells.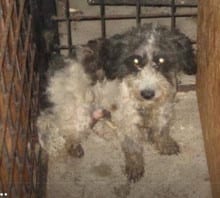 Molly in the public shelter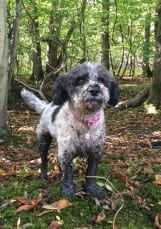 …. and today, happy but muddy in woods near her home
Abandoned and pregnant by the side of the road