Here at the 1 Dog At A Time Rescue UK team, we understand that fireworks can be frightening to your dogs because of the flashing lights and loud bangs that they make. You may think that our older rehomed Romanian street dogs would be used to them, but it's not the case.
Bonfire night
Bonfire night is officially the 5th November, but fireworks are let off for an extended period of time before and after this date, so it can be a real problem for pet owners who need to keep their dogs safe. Diwali is another occasion for fireworks to be used to celebrate. Then of course, New Year's Eve is yet another occasion where fireworks are used to create the biggest, brightest and ear-splittingly loudest noise. If your dog is at all worried by the flashes and bangs, please heed these words of warning to make sure you keep your dogs safe over the next weeks or months.
I have just seen the sad news of an 8 year old collie girl who was spooked by fireworks two days ago in a local park. She slipped her lead and ran off, was unfortunately involved in a road traffic accident and sadly didn't make it home. My own dogs have all reacted to fireworks in different ways. Ozzie my old lab – now at the bridge used to have to bark at full volume at them so that they go away. Harry, my Golden retriever – now also at the bridge, spent the whole time stressing and panting, drooling and dribbling at the noises and flashes. I had to give him tranquilisers, and he wore his thundershirt. He was even worried about fireworks noises on the TV.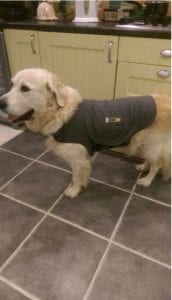 I'm lucky in that my two current dogs Milly and Charlie don't seem at all bothered by the flashes or bangs and happily sleep through it all. If you have a rescue dog, especially one that has been a street dog or has come from Romania or other parts of Europe, then just because you don't know too much about their previous life, the one thing you can assume right from the start is that they are very likely to be worried or frightened by fireworks. It would be best if you were prepared to help them when fireworks time is looming.
Here are some of my own tried and tested tips for keeping your dog safe and happy: 
• Please make sure you let your dog out into your garden BEFORE it gets dark. I used to feed my dogs a little earlier to be sure they had the opportunity to go to the toilet before it gets too dark. 
• Try not to let your dog into the garden after dark. Some dogs that are very anxious might associate your garden with scary things and then get nervous about going into the garden for some time in the future. 
• One of our 1 Dog dogs called Sasha (a Romanian rescue street dog) is very scared of fireworks. Now in her 3rd year of UK fireworks noise, her family have decided that a safe "den" under the bureau is the best way forward. You could use a kitchen or dining room table; anywhere your dog feels safe. A dog crate with the door open and a blanket over it can be a great den. Your dog can then retreat to their safe place, and the blanket or a duvet is then used to cover it up and help block out the noise and flashes.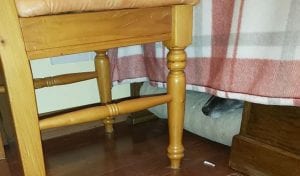 • Sometimes keeping your dog occupied can help, so how about giving them a stuffed or frozen Kong or their favourite treats such as an antler. Chewing and licking can be very calming for a dog.
• As silly as it might sound DO keep ALL windows and doors closed and draw the curtains too so that your dogs cannot see or hear the noises and flashes.
• You can play calming music or turn up the TV or put the radio on…anything that will help to block out the noise.
• My dog Harry used to wear his Thundershirt when the noises and bangs were at their worst.
• You can try calming supplements such as Zylkene or Pet remedy or Nutracalm.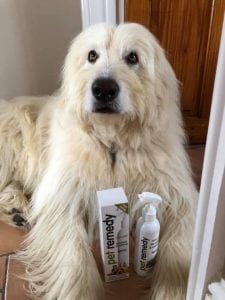 • Sitting with your dog and cuddling or soothing them can help. Harry used to have to sit on my husband's lap, believe me, it's not easy having a large golden retriever sitting on your lap!
• Cuddling or stroking your pet will be soothing for them, and you feel as if you are doing something useful. Be aware though, you might need to stay up late until the noises outside have finished…… so be ready for a long session. Maybe watch a film or a box set together!!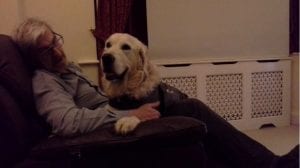 Of course, once November is done the next time fireworks are likely to be heard is on New Years Eve, so the same things above will still apply. Please don't let your dog be spooked by noises and end up being hurt or worse still killed as the result of a tragic accident. It never hurts to be prepared. Stay safe everyone!
Please click here to contact us if you would like more information on 1 Dog At A Time Rescue UK.