We all think the world of our dogs, don't we? Well here are a few ideas for Christmas presents, some for you to make and some to raise money for 1 Dog at a Time Rescue.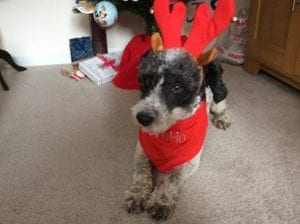 We are a nation of dog lovers and what better way to give your dog a Christmas treat than to bake them their very own dog biscuits. If you have never tried before they are straightforward to make, and you can always encourage any children to help, we all know how children love to help in the kitchen.
When our dogs are adopted, we always include a dog biscuit recipe in their adoption pack. The recipe is from one of our very own volunteers, Pippa Scott, and is tried and tested not only by her own dogs, but also by many more of our adopted Romanian rescue dogs, my own two dogs included.
Pippa's homemade dog biscuits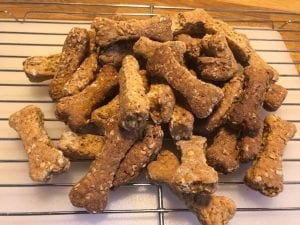 Here are the ingredients :
450G PORRIDGE OATS
600G STRONG BROWN FLOUR
4 EGGS
100-150 ML RAPESEED OIL (SUNFLOWER OIL)
BETWEEN 250-350G SMOOTH BRUSSELS PATE (DEPENDS HOW TASTY YOU WANT THEM)
I use supermarket own-brand products.
Directions :
Put all the wet ingredients into a hand blender or mixer and really blitz them together, so the oil is totally combined. If this isn't done, then the mixture can be very greasy and unusable!
Add it to the dry ingredients and mix them together to make them into a dough, you will need to knead it for about 5 minutes. If it doesn't all come together, add a little water to bind it.
Once it is all mixed in, roll out to about 1/3 inch thickness and cut into whatever shape you want.
Cook in the oven at 200 for about 15/20 mins, until brown and hard to touch on outside. Better to be slightly underdone than overdone!
You can cut down the amounts. This amount does my five dogs and lasts for about two weeks, for walking treats. They will keep fresh in a Tupperware box easily for three weeks.
These are tried and tested, by many a Romanian street dog.
You could always bake extra for your friends who have dogs and give them as Christmas presents.
New dog brush
Would your dogs like a new brush from Father Christmas?
If your dogs are anything like mine, then they will love having a fuss made of them, and I use this as an excuse to brush or groom them. Both my dogs will lie so still whilst being brushed; they just love it.
There is a lot of debate about which brushes are best, and the answer really does depend on what type of coat your dog has, long hair or short hair, and whether you prefer a rake type of brush, a bristle brush or a close fine wire type of slicker brush. I prefer to use a Furminator, but I do sometimes use a Slicker brush too. There are lots of different kinds of brush available, and it really does boil down to personal preference. Maybe go into your local pet shop and see what's there and or search online. Your dog will love having their own new brush for Christmas.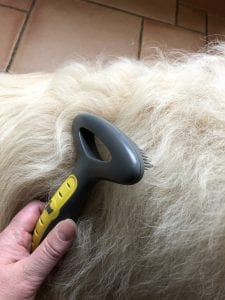 Christmas themed presents
There are endless Christmas themed toys, beds, coats, etc. that are available for your pet online or in local shops. Lots of personalised items are available to buy too. When choosing a toy for your dog, make sure it is safe. Do not purchase rawhide chews which are dangerous as they pose a choking and blocking risk.
Be careful of cheap plastic squeaky toys, they destruct very quickly, and there is a risk that they could ingest parts of it, especially the plastic "squeaker" part. Avoid or alter any toys that aren't "dog-proof" by removing ribbons, strings, eyes or other parts that could be chewed off and ingested. Have a look in your local pet store or online for robust dog toys, such as Kong toys, or ones that your friends can recommend that have lasted more than five minutes!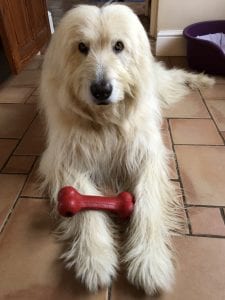 Here at 1 Dog, we have our own Facebook Auction page which has regular monthly auctions running with some wonderful items, many of which will make great Christmas presents for you, your family or friends, or even for your dog. Do have a look and make a bid. Every penny raised goes towards helping us to rehome more Romanian street dogs. If we don't have a current auction running when you look, then we will have a raffle or a scratch card game or even a lottery draw.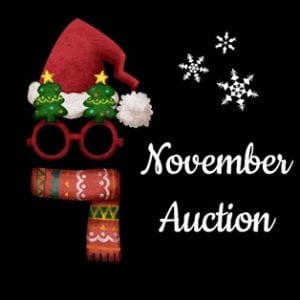 Don't forget every purchase from our auction page or via our scratch cards or raffles will help save more desperate, abandoned pets and street dogs in Romania.
If you are stuck for what to get your family or friend as a Christmas Gift, or a present at any time of the year, then why not treat them to one of our Gift vouchers.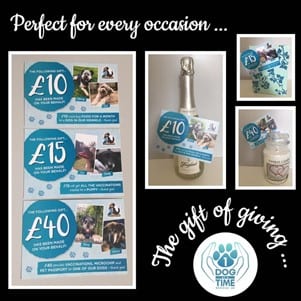 They are a truly unique and meaningful way to treat your loved one, friend or colleague and are perfect for every occasion. Our Gift vouchers come in three different nominations £10, £15 and £40. They are great to give by themselves or maybe with a bottle of wine, candle or box of chocolates.
Postage is £1 up to 4 vouchers or £1.40 5+ vouchers. All the vouchers come with envelopes. If you would like to buy one of our gift cards then please click here.
We also have Christmas cards available to buy. The dogs on the cards are all based on actual 1 Dogs and were designed especially for us, BUT even better every single penny raised will be used to help more dogs waiting desperately for our help. The Christmas cards will be listed for sale on our auction page, so head on over there if you would like some.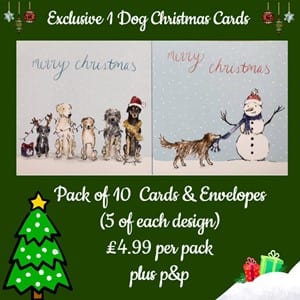 No matter what gift you choose, you can be sure that on Christmas morning, your dog's joy will match your own as they unwrap their very own Christmas present.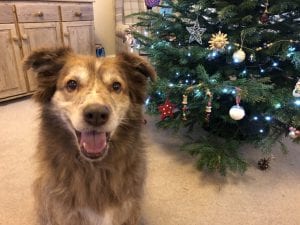 Please click here to contact us if you would like more information on 1 Dog At A Time Rescue UK.