This is the story of Ashley and Billy, two friends who found a wonderful home together.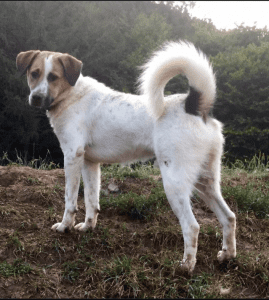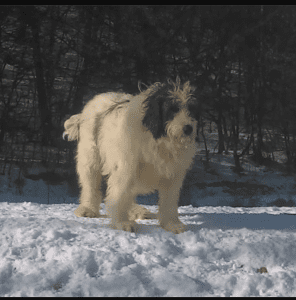 Walking the streets
Billy and Ashley used to walk the streets together, finding scraps, sheltering from the snow and searing heat, wherever one was, the other one wasn't far away. Billy was the first to come to our shelter called Happy's, pining desperately for Ashley, until finally they were reunited at Happy's a few weeks later.
This bonded pair clearly adored each other; we knew we couldn't separate them but finding a home for them together was going to be almost impossible. After an incredible 16 months with no interest in them, we made the very heartbreaking decision to separate them, hoping and praying they would each finally find their forever homes. We had a space to bring Ashley over on our next available Freedom Bus with a foster place available for her; she travelled on 19th November 2017. We had an extra transport a few days later with space available for Billy, but sadly we couldn't find him a home or foster, and he went into kennels in the U.K. Sadly Ashley's foster place didn't work out. We were utterly heartbroken and felt we had let them down. It was now the beginning of December, and both our precious dogs would be stuck in kennels. Then our Christmas miracle happened, not only did they both find a home but TOGETHER.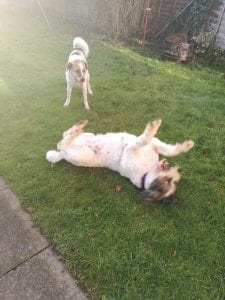 Derrin and Ian, who are Ashley and Billy's mum and dad, tell their story of how they all came together just before Christmas.
I first saw Billy and Ashley when either Karen or Sarah shared them on Facebook. At the time I still had my Jack Russell, Toby, so I wasn't able to consider rehoming another dog.
So I would share them, every few days, hoping and praying that people could see what I saw, Billy with his slightly sad face but at the same time always so happy, and Ashley with those gorgeous, brooding eyes.
In November 2017, my beloved boy had to be put to sleep. I was devastated. By then, Ashley and Billy had been brought to the UK in the hope that they could find homes.
About three weeks later, I saw a post about Billy, alone in kennels because Ashley was in foster. He looked so sad all alone. After some discussion with the family, I put in an application and quickly had a home check.
When making arrangements to go and meet Billy, I was informed that Ashley had been returned to kennels after a mere two weeks! Would we be prepared to meet her too? After a lot of soul searching, we agreed to meet her but made no promises. Could we go from having one small dog to two large ones in our little house? Would we be a suitable home for two dogs that had been through so much already?
The day arrived for our meet and greet. It was snowy, and the kennels were an hour and a half drive away. We could hear Billy before we met him. I've never seen a dog so pleased to see people. He was so excited, jumping around and tail wagging. Then they brought out Ashley. She was HUGE! And such a cuddle monster. It was love at first sight, and I knew straight away we'd be taking them both.
Two days later, we brought them home. They seemed to settle well for the first couple of days, but then Ashley started to pick on Billy. After some advice, we got an Adaptil plugin and started to treat Billy as top dog. Very quickly, this seemed to resolve the issue.
Christmas came and the big test, leaving them alone for a few hours. They ate my purse, my granddaughter's new toy camera and the mask to my husband's CPAP machine!
Ashley's guarding instincts proved challenging in the beginning, as both my son and son-in-law discovered! However, with careful, gentle introduction and patience, all members of the family were soon greeted with wagging tails, especially if they brought treats!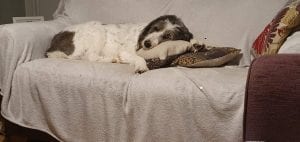 There are still issues, Billy is terrified of loud noises, and both of them are still reactive to other dogs. Ashley's guarding still comes to the fore occasionally with strangers, especially if they have a stick. But none of that matters. They are part of our family, and we love them dearly. Oh, and they've stopped eating things they shouldn't…. unless there's food involved!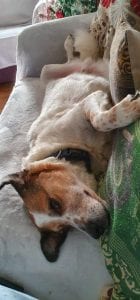 Love, patience and perseverance paid off. Now almost three years on we can't imagine life without them. They are amazing with the grandchildren, especially Ashley. Their excited greetings when we come home, after 5 hours or 5 minutes, is wonderful. Ashley, big, clumsy, jumping around like a puppy with her stumpy tail going 19 to the dozen. Billy as excited as ever, doing zoomies up and down the stairs. And as I write this, Ashley is snoring happily next to me on one sofa and Billy curled on the other with his head on a cushion.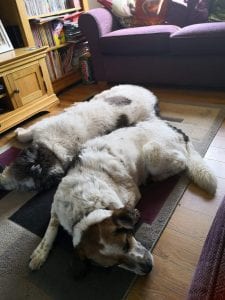 And so Ashley and Billy lived happily ever after ❤💙
Please click here to contact us if you would like more information on 1 Dog At A Time Rescue UK.